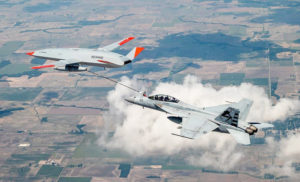 Have you ever run out of gas? It is embarrassing and normally messes up your whole schedule and day. Just imagine you are flying a jet fighter a 1000 miles from your carrier ship. "Who you gonna call?" Call the robot. Yep, we have one of those as well. Boeing has a contract for the MQ-25 aerial refueler and the drone tanker flew for the first time with the aerial refueling hardware required for its primary mission in December. The latest test followed 25 T1 flight that tested the aircraft and the refueling technology, as well as simulations. Flying at operationally relevant speeds and altitudes, the F/A-18 flew as close as 20 feet behind the unmanned aerial-refueling tanker. The MQ-25 test asset then extended the hose and drogue from the Aerial Refueling Store and plugged into the fighter to transfer the fuel. "MQ-25 can carry 15,000 pounds of fuel and will greatly increase the range and endurance of the future carrier air wing."
Can I get a drink?
My doctor has advised me to stop drinking.
It's going to be a massive change for me.
I've been with that doctor for 15 years.
A lady was conducting her anti drinking campaign outside a bar…..
A heavily drunk man came out of the Bar exuding alcohol fumes. The Lady stopped him and said – "Tell me!!! If you arrive at the Gates of Heaven with your breath smelling of liquor… Do you think the Lord will let you in ???"
"My good woman" passionately holding her hand, said the man, "When I go to Heaven, I expect to leave my breath behind."
To me, "drink responsibly"…
means don't spill it.
If you become seriously depressed, try drinking a gallon of water, before you go to bed.
That will give you a reason to get out of bed in the morning.
June 18th Birthdays
1992 – Willa Holland, 1948 – Ivonne Coll, 1952 – Isabella Rossellini
1991 – Axel Hirsch, 1987 – Richard Madden, 1972 – Blake Shelton, 1980 – David Guintoli
Morning Motivator:
"You must be the change you want to see in the world." Ghandi