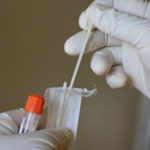 San Francisco-based uBiome provided services that they claimed accurately analyze a customer's intestinal microbiome. Except that they didn't. According to the SEC, the company's tests were nothing but … bovine fecal matter. uBiome's founders collected more than $60 million from investors based on bogus claims about their company. They presented their firm as a "successful start-up with a proven business model." uBiome's purported success in generating revenue depended on duping doctors into ordering unnecessary tests. Wait, they were making money by getting doctors to swab people's butts for nothing? Talk about low. After the swab, the customer would mail the kit back to uBiome. They would then analyze the samples. They would bill insurance companies several times for the same tests. The sad part about it all is that microbiome testing can be a genuinely helpful medical procedure, but these guys were crooks.
Bend over please and spread…
A lawyer cross examining the doctor about whether he checked the pulse of the deceased before he signed the death certificate. "No," she said, "I did not check his pulse." "And you listen for a heartbeat?" asked the lawyer. "No I did not," the doctor responded. "So," said the lawyer, "When you signed the death certificate, you had not taken steps to make sure he was dead." The doctor said, "Well let me put it to you this way. The man's brain was in a jar on my desk, but for all I know he could be out practicing law somewhere."
As I leaned in to check her eyes, my older patient got a little frisky. "You remind me of my third husband," she said coyly.
"Third husband?" I asked. "How many have you had?"
"Two."
Mr. Harper sued a hospital, saying that after his wife had surgery there, she lost all interest in sex. A hospital spokesperson replied, "Mrs. Harper was admitted for cataract surgery. All we did was correct her eyesight."
"Here," says the nurse, handing the patient a urine specimen container. "The bathroom is over there." A few minutes later, the patient comes out of the bathroom.
"Thanks," he says, returning the empty container. "But there was a toilet in there, so I didn't need this after all."
April 9th Birthdays
1986 – Brittany Snow, 1987 – Leighton Miester, 1998 – Elle Fanning, 1980 – Keisha Knight Pulliam
1983 – Jay Barucel, 1979 – Oscar Isaac, 1955 – Dennis Quaid, 1987 – Jesse McCartney
Morning Motivator:
Do whatever it takes to convey your essential self.