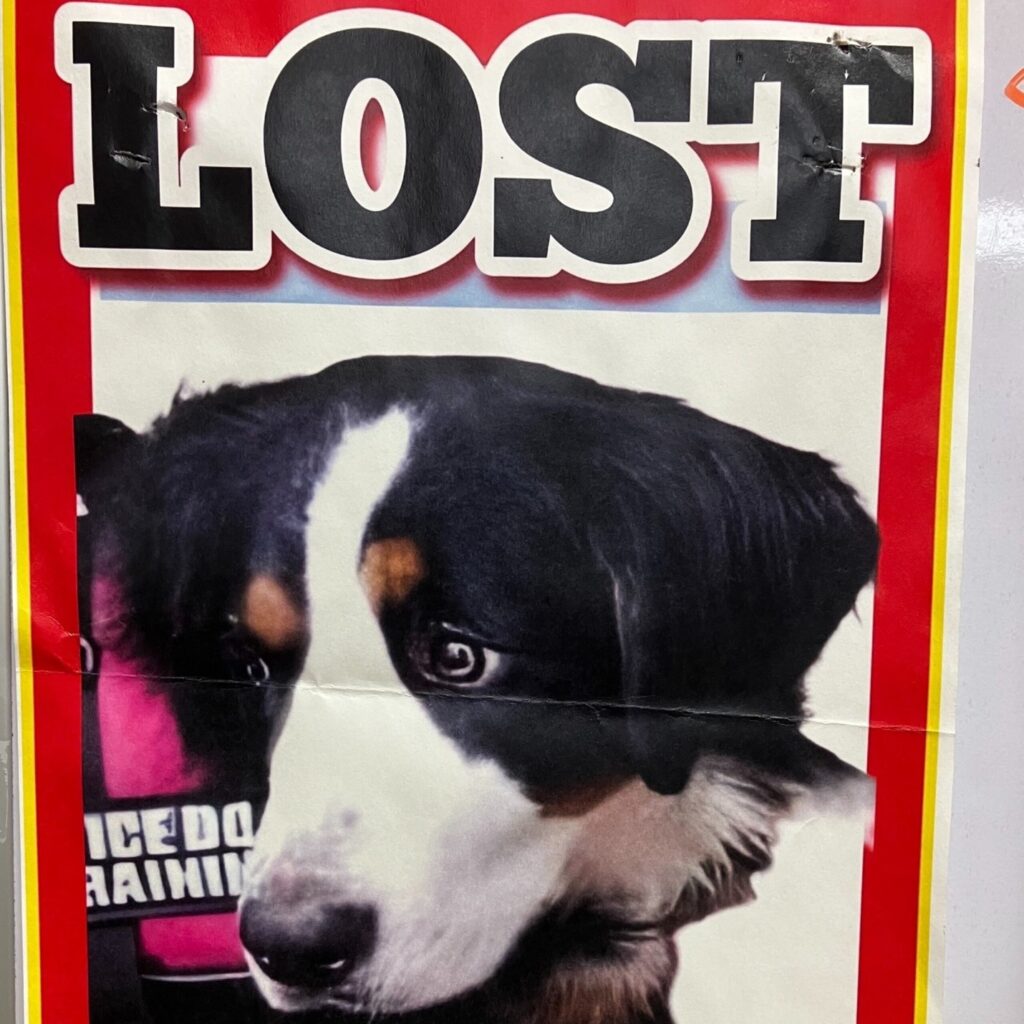 Nova, whose full name is Nova Riley is a service dog in training to help her owner safely move around. Nova went missing after she slipped out of her harness and ran away when she got scared in a Safeway parking lot. Nova's owner/trainer Simons-Sealy, who is disabled, told the media that she searched extensively for her dog but with little success. Sealy said that her pet was spotted several times but was too scared to come near people and could not be rescued. "She survived two snowstorms and below-freezing weather," Simons-Sealy told the Greeley Tribune. "I was in tears every time it snowed." Nova, a 14-month-old Bernese Mountain dog, that had been missing for almost seven weeks was found by hikers Sunday near a hiking trail. The Jefferson County Sheriff's Office said that when the hikers found Nova on the trail, they couldn't spot her owner anywhere. Nova could hardly move, so they tried to carry her down the mountain, in an attempt to rescue her. However, since the dog was injured and scared, she bit one of the hikers. Nova had been suffering from a broken leg and her collar was "drooping off of her neck" when she was found.
Instead of abandoning the pet and leaving her alone, the hikers reached out to the sheriff's office for help. One hiker remained with the dog while the other came down for medical help and to show rescuers where to go. Rangers and rescuers hiked almost three miles up the trail to rescue Nova. They ended up carrying Nova down the mountain in a sling with a muzzle. Fortunately, a ranger remembered a poster for "Lost Dog" posted in the park from over a month ago and Jefferson County's Animal Control department called the owner to arrange a meet-up at the trailhead, where rescuers were bringing down Nova.
Nova, was reunited with her owner after having been missing for two months," said the sheriff's office, adding that Nova has a broken leg but "is resting comfortably at home and awaiting possible surgery." Simons-Sealy sauid that Nova "went crazy" when she recognized her owner. "It was so beautiful and so heartwarming and the most wonderful sound of her realizing, 'I'm safe, I'm okay'." The pet owner added that Nova would not let her out of her sight now. Simons-Sealy said that her pet lost almost 20 pounds, a quarter of her body weight, in the duration and will most likely have to have surgery on her broken leg. Nova can no longer work as a service dog due to her injuries, but she will be staying with Simons-Sealy in her forever home.
Hiking humor
I made a playlist for hiking!
It has music from Peanuts, The Cranberries, and Eminem.
I call it my….Trail Mix.
Whenever my son goes snowboarding, I make him stuff hot dogs in his pockets.
So the rescue dogs will find him first!
If dogs could talk, it would take a lot out of the fun of having one.
I used to be in a band, we were called 'Lost dog.'
You've probably seen our posters.
November 30th Birthdays
1986 – Kayley Couco, 1970 – Sandra Oh, 1983 – Elisha Cuthbert, 1985 – Chrissie Teigan
1945 – Ben Stiller, 1874 – Winston Churchill, 1835 – Mark Twain, 1963 – Bo Jackson
Morning Motivator:
Happiness is not a state to arrive at, but a manner of traveling.