Is your dog smarter than you?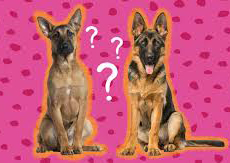 Dogs are known for their excellent traits including loyalty – but have you ever thought about which breed is the most intelligent? That's what researchers at the University of Helsinki in Finland found in a new study. They put 1,000 pups to the test in a series of challenges. The 10 tasks examined their strengths and weaknesses in a number of cognitive and behavioral areas. This included their ability to read human gestures, how dependent they are and whether they were able to work out how to access food in a sealed box. The results of the study found that the Belgian Malinois is actually the smartest dog around. Dr Katriina Tiira, also from the University of Helsinki, added: "The Belgian Malinois stood out in many of the cognitive tasks, having very good results in a majority of the tests." This is no surprise as the breed is often used as police dogs across the world. Border Collies, which are widely known as sheepdogs, followed in second place with 26 points. Other intelligent pups include Labrador Retrievers, Border Collies and Golden Retrievers. "Most breeds had their own strengths and weaknesses. For example, the Labrador retriever was very good at reading human gestures, but not so good at spatial problem-solving," "Some breeds, such as the Shetland sheepdog, scored quite evenly in almost all tests."
A jump-roping dog and his German owner broke a Guinness World Record by skipping over a rope together. Wolfgang Lauenburger, a dog trainer whose talented canines have performed in circus acts, taught one of his dogs, Balu, to jump rope on his hind legs. The duo made an official attempt in Stuckenbrock, North Rhine-Westphalia, and earned the record for most skips by a dog on hind legs in 30 seconds when they both vaulted over the rope 32 times in half a minute. Lauenburger and his dogs have set multiple Guinness World Records. His daughter, Alexa, is also a dog trainer and has appeared on Germany's Got Talent and Britain's Got Talent.
But wait there is more! Look at this pooch who can jump double dutch.
How many humans can do that?
Smarter dogs
The World Health Organization has announced that dogs cannot contract Covid-19. Dogs previously held in quarantine can now be released.
To be clear, WHO let the dogs out.
I once petted an airport security dog hoping he'll let me sneak in some weed
Got arrested for possession and bribery.
Dogs aren't smart enough to operate MRI machines,
but CATscan
My buddy told me his dog could bring him a ball from a mile away.
Sounds pretty far fetched.
January 12th Birthdays
1955 – Kirstie Alley, 1985 – Issa Rey, 1984 – Jessie Graff, 1968 – Racheal Harris
1951 – Rush Limbaugh, 1930 – Tim Horton, 1977 – Piolo Pascual, 1964 – Jeff Bezos
Morning Motivator:
There are always flowers for those who want to see them.