You eat the shark, sweet!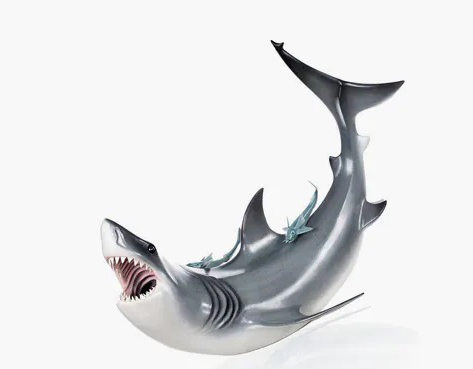 You may have heard the throbbing beat of the drum alerting people to get out of the water during shark week. It has struck in Las Vegas. At the Pastry Academy there is a large shark 7 ½ feet long complete with 2 remora parasite fish on display. Amaury Guichon is a well-known gourmet pastry chef known for his pastry designs and chocolate sculptures. Amaury started his own School of Chocolate on Netflix, a competition show in which contestants construct chocolate sculptures with Guichon both guiding them and judging the final result. The 8-episode reality series premiered on the platform internationally. Guichon co-founded the Pastry Academy with Belgian chef Michel Ernots. Amaury has been a social media hit with his many sculptures made completely of chocolate. The chocolate shark masterpiece weighs 150 pounds and is one of his "largest creations."
The video below shows the assembly of the shark from sheets of chocolate to the sugar coating to provide the colors finish. Amaury starts with a block of milk chocolate and pours them into various shapes and then welds them together to make sculpture he desires. You can see him making different parts of the shark with chocolate and then assembling them one after the other. Amaury is obviously a sculptor with a great eye and engineering sense. "Chef Amaury's sculptures are 100% chocolate/edible and are made during the long-term programs here in his Academy located in Las Vegas for educational purposes and thereafter are displayed permanently in the Academy for his students to observe, they are not for eating." Amaury also shared the detailed instructions for the ones who are interested about learning his techniques and recipes.
Shark week:
So we took our new dog to the beach today,
I realize now it was not a good idea to name him "Shark."
I told a friend I had been attacked by a shark. He asked what I did.
I said, "Nothing, the shark started it."
There's a little-known, but foolproof defense against sharks.
Sharks will only attack you if you're wet.
Arguing with idiots online is like wrestling sharks;
Even if you win, it is a really stupid thing to do.
August 25th Birthdays
1988 – Blake Lively, 1999 – China Anne McClain, 1970 – Rachel Ray, 1970 – Claudia Schiffer
1955 – Elvis Costello, 1962 – Billy Ray Cyrus, 1930 – Sean Connery, 1967 – Tom Hollander
Morning Motivator:
Nothing is impossible to a willing heart.