You Should Have Guessed
Strong winds whipped up a wall of dust in Eastern Washington on Monday. The Washington State Patrol said, "We have had reports of blowing dust on State Routes 26 and 127, visibility is very poor and there has already been a collision in the area." Route 26 was blocked after a semi and car collided. The highway was closed for nearly six hours just outside the Washington town of "Dusty".
Weely Wild Wind Wonders: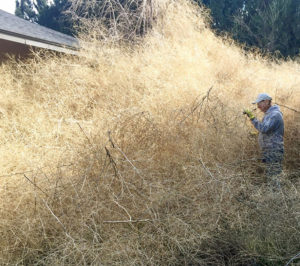 My wife sat down next to me as I was flipping channels.
She asked, "What's on TV?" I said, "Dust."
And then the fight started…
How do you stop your newspaper from flying away in a dust storm? Use a news anchor.
It is written, we all come from dust and return to dust.
That's why I never dust, it could be somebody I know.
Best way to get rid of nasty kitchen odors: Eat out.
BUT Wait! There is more, look what blew in:
Terrifying Tumbleweeds blow into Washington state
on a regular basis. Why is Chicago called "the Windy City"