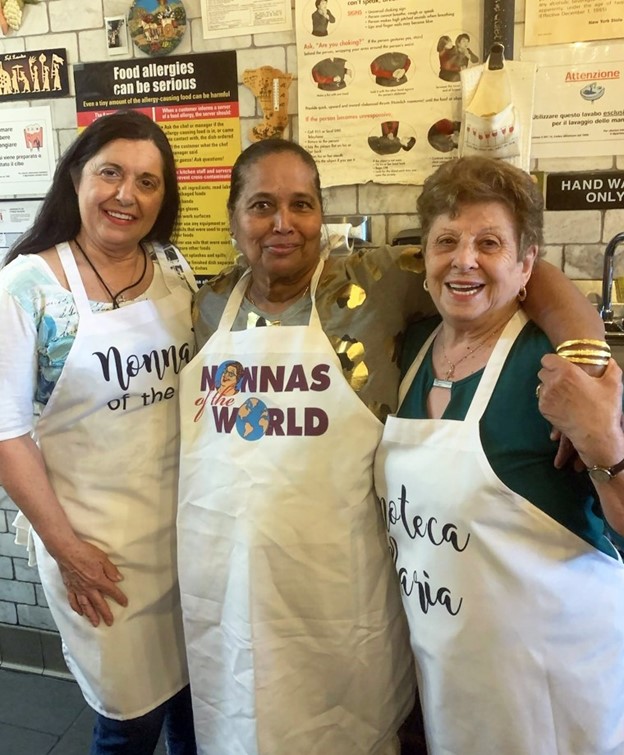 "Enoteca Maria" is a little restaurant in Staten Island, New York with a unique concept."We are not chefs. We are just grandmothers sharing our cultures," Maral Tseylikman said as she sat in the dining room where she's worked for seven years. The eatery has a uniqueness is the idea that no one cooks a more heartful meal better than a grandmother, the restaurant is home to a rotating cast of grandmothers — or nonnas — who cook the meals they've been providing their families for generations. grandmothers who join culinary forces at Enoteca Maria for dinner service three nights a week. It features a fixed, regular Italian menu depending on which nonnas are cooking that night, a variety of each grandmother's culture's cuisine. Three regular grandma chefs are  Tseylikman from Azerbaijan, Gialanella from Italy, and May "Dolly" Joseph from Sri Lanka has been serving dishes from its kitchen for at least seven years, with Gialanella boasting a decade of service. They talked about the women's experiences with one another, preparing the dishes they know best and serving happy patrons, saying friends and happiness come with the job. "Meeting people from different countries … there are so many people who come here from different countries. They hear about this place, and they come," Dolly said.
The restaurant's owner, Joe Scaravella, started the project in part to honor his own Italian heritage and his own "nonna." Each night, a "nonna" from a different country designs a fresh menu, honoring her native cuisine. When Scaravella opened the restaurant in 2007, he decided to name it in his departed mother Maria's honor. "I was grief-driven and I had no business plan. I had no experience. I never even worked in a restaurant, no idea what I was doing. And so it just kind of unfolded," Scaravella said. They aren't just doing it for themselves and their families, but for all the customers who come in the door. "Everybody, they're kissing me. They wanna make a photograph with me," Gialanella said. "Everybody say, 'Oh, I love you, I'll come again. I wanna see you again.'" Business is great, and the personal service sells the place. You have to subscribe to the "Nonnas Calendar" to get a seat. Friday was Sri Lanka; Thursday, the Philippines; Tuesday, Armenia. A man eating at the bar asked about the next Sunday menu: Russian.
The phone rang every few minutes. One caller asked if Joe Scaravella would hold her reservation; she was running late. Another made reservations from England. Mary McLaughlin, 68, had cod and the gyoza, she who traveled 32 miles from Floral Park, on Long Island, to dine at the restaurant, said she liked the idea of rotating chefs who knew their way around a truly home-cooked meal. "It's more personal," Mary said. "And it leads to a variety of items on the menu." "It's very much of a New York experience," said Mr. Goldberg, who works as a computer engineer. "It's like a vibe." There is a distinct difference between a grandmother's homey kitchen and the nonnas enterprise: A grandmother never turns anyone away. At Enoteca Maria, however, Mr. Scaravella doesn't have much choice. "We are completely booked," he said into the telephone headset, over and over. "I can put your name on a wait-list and call you, if something changes."
Grandma grins
At the age of 65, my Grandma started walking 5 miles a day.
She's 92 now. We have no idea where she is.
My mum told me, when I visit grandma in hospital, I should take her flowers.
So, when grandma wasn't looking, I took them.
I asked my grandpa: "After 65 years you still call grandma darling, beautiful and honey. What's the secret?"
Grandpa: "I forgot her name five years ago and I'm scared to ask her."
What does my Grandma and a modern website have in common?
Making me accept the cookies on every visit.
March 17th Birthdays
1954 – Lesley-Anne Down, 1952 – Susie Allanson, 1986 – Olesya Rulin, 1976 – Brittany Daniel
1955 – Gary Sinese, 1952 – Kurt Russell, 1964 – Rob Lowe, 1919 – Nat King Cole
Morning Motivator:
He who asks is a fool for five minutes,
but he who does not ask remains a fool forever.