Bored? How about gardening
Bored? How about gardening
Tony Newton and wife Marie have outdone themselves by creating a Spring spectacular in their yard after spending the Corona lockdown tending to their backyard. The couple have crammed 3,000 plants and flowers, including 450 azaleas, 120 Japanese maples and 15 blue star junipers, into a quarter of an acre. The couple had previously spent 38 years transforming their modest plot in the industrial heartland of West Midlands of England into what is now nicknamed the "four seasons garden." "Tony and I usually spend two hours a day in the garden but obviously since the lockdown and the fact we are over 70 means we have even more time to spare. We are sometimes in the garden all day and only come in when it gets dark," Marie said.
Dirty Humor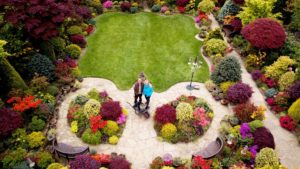 A toddler who was found chewing on a slug.
After the initial surge of disgust the parent said,
"Well . . . What does it taste like?"
"Worms," was the reply.
I heard about people talking to their plants, so I went out and bought one.
I haven't watered it for a week now.
Oh it'll talk. Eventually.
My wife is furious at our next door neighbor who sunbathes nude in her garden…
Personally, I'm on the fence
If I could only grow green stuff in my garden like I can in my refrigerator