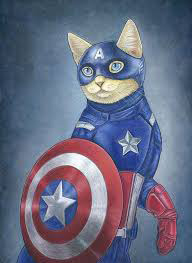 Michaella Franlin's garage looks like a crime scene, dotted with blood. Michaella planned on spending her Saturday working around the house and yard, that is, until a neighbor's large dog showed up. "It just kind of looked at me and I'm looking around like, where is the owner of this dog?" Michaella said. "Then it saw my dog and it ran into my garage, and my little blond dog kind of hunkered down for safety and the monster just mauled her." Michaella said she tried pulling the dogs apart by the collar. When that didn't work, she tried to use a bike pump to push the attacking dog off her seven-year-old spaniel, Bailey. "It seemed like the attack went on for ten or fifteen minutes," Michaella said.
It wasn't until the cat, Mocha, heard the noise from inside the house, came out, and distracted the other dog could Bailey get free. The aggressor was confused by another animal attacking him and let go of Bailey who limped into the house and the attacker then left the garage. "Bailey is alive today because of my superhero cat, "Mocha" without a doubt," Michaella said. She called police and the Nampa,ID Animal Control said the owner of the attacking dog has been cited for the incident, but an animal on animal attack is treated differently by law enforcement than an animal on human attack. If a dog attacks another dog, that doesn't mean it's a threat to a human's safety. "Even though it's a dog, they don't view the smaller dogs like a dog; it's a prey animal" Bailey had to undergo surgery after sustaining dozens of deep bites, racking up a veterinary bill of close to $2,000. As for now, Bailey is home recovering from the attack with Mocha her savior by her side. "They're like brother and sister," Franklin said.
Superhero Memes
Marvel Comics have announced a new female, Muslim superhero who can fly.
Which is handy, cause she's not allowed to drive.
What do you call a superhero whose power is misjudging the height of jumps?
Splatman
What's a blond superhero with a bad sense of direction?
Wander Woman.
A man applies to be a superhero as a part of the X-Men
When asked what his super power is, the man replies "Hindsight."
The doctor says "That won't be of any use to us."
The man replies, "Yes, I see that now."
December 1st Birthdays
1989 – Zoe Kravitz, 1945 – Bette Midler, 1960 – Carol Alt, 1956 – Claire Chazal
1987 – Desean Jackson, 1978 – Mat Kearney, 1933 – Lou Rawls, 1939 – Lee Trevino
Morning Motivator:
Man and cats often become what they believe themselves to be.