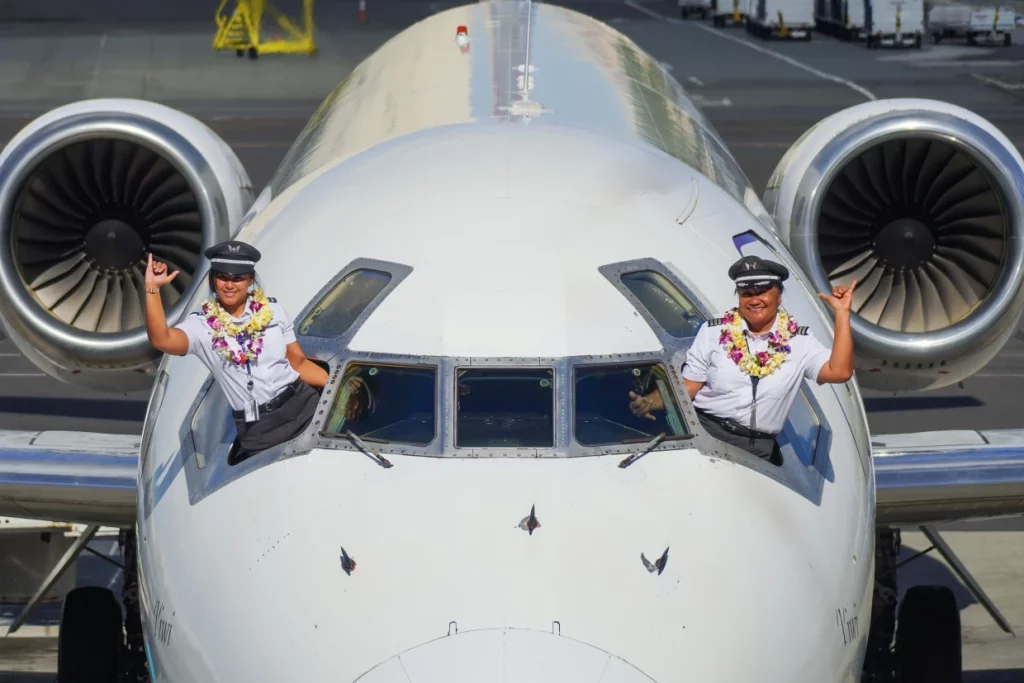 When Kamelia Zarka started working for Hawaiian Airlines as a flight attendant in 1992, she never dreamed that one day she would be breaking barriers as both a Tongan woman and mother. Not long after Kamelia began working for the airline, she pursued her private pilot's license and later took a leave of absence from working as a flight attendant to obtain additional certifications needed to fly commercial airplanes. On her 38th birthday, seven years into her pilot's training, she received a call from Hawaiian Airlines to work for the company as a pilot, becoming the first Tongan woman to captain a commercial airliner in 1999. "When I was hired, women made up four percent of pilots of the industry — now it's about eight percent industrywide — and even higher at Hawaiian," Zarka, 61, said.
Kamelia's daughter, Maria said that while she grew up traveling and spending time around planes, her love for flying didn't really "sink in" until college when she took her first demo flight, an experience that allows people to take controls of an aircraft under the guidance of a licensed flight instructor. "Once I started flying, I was hooked and knew I wanted to follow in my mom's footsteps and become a Hawaiian Airlines pilot. " Maria was hired by Hawaiian Airlines earlier this year after working for Republic Airlines in New Jersey for two years at 28 years old. Capt. Kamelia Zarka and her daughter, First Officer Maria Zarka, shared the flight deck for a series of neighbor island flights on Aug. 31. The mother-daughter duo shared the cockpit, flying between neighboring islands in a Boeing 717 aircraft. "I can't reiterate how much of a gift sharing the cockpit with my daughter, Maria, was to me. I always knew Maria would be a fantastic pilot — she's always been brilliant and professional — but sitting next to her as she flew the plane with such skill and ease still blew me away." Maria Zarka said, "I feel fortunate to have a mom who cares so much and has worked hard to pave the way for other females and me as the first Tongan female to captain a commercial airliner."
Feminist Finality
What kind of man can you actually change?
The ones still in diapers.
I just got off an airplane piloted by an all-female flight crew.
It was an unmanned aircraft.
Women treat me like a god,
They ignore me till they need something.
Is Google male or female?
Female because it refuses to let me finish a sentence before making suggestions.
September 30th Birthdays
1986 – Lacie Chabert, 1958 – Fran Drescher, 1932 – Angie Dickinson, 1975 – Marion Cotillard
1935 – Johnny Mathis, 1861 – William Wrigley, 1969 – Eric Stoltz, 1992 – Ezra Miller
Morning Motivator:
Ambition is the path to success. Persistence is the vehicle you arrive in.