A squirrely bakery incident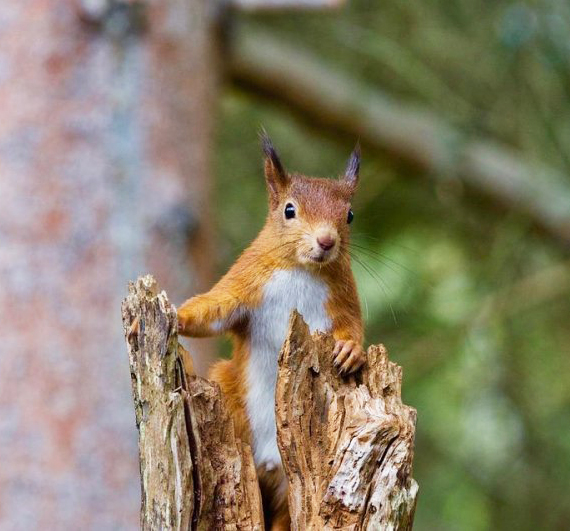 Greggs bakery in Pitlochry, Scotland was closed Sunday, Monday and Tuesday after a red squirrel was found to have taken up residence inside the building. The red Squirrel is a protected species in Scotland. Due to their protected status, it is a criminal offence "to intentionally or recklessly kill, injure or take a red squirrel. It is also an offence to damage, destroy or obstruct access to a squirrel nest or any other structure or place which a red squirrel uses for shelter or protection. And people must not disturb a red squirrel when it is occupying a structure or place for shelter or protection." Initial attempts to safely capture the red squirrel were unsuccessful. An eyewitness who photographed the squirrel in the bakery through the store window said the animal looked like it wanted to escape. "The wee thing looked a little stressed, running all around, jumping on the chairs," Shona Rollo, from Pitlochry, said. "And at one point it came right up to the window to eyeball us like it was definitely looking to escape. One of my boys wanted a selfie with it. It was actually a really lovely experience watching it run around – very ninja-like."
A spokesperson for the Scottish SPCA said they were initially contacted about the squirrel on Saturday. When the proprietor tried to capture and release the squirrel it climbed into the ceiling. "As the squirrel was very high up in the rafters, we advised the complainant to leave an exit for the squirrel in the hope the animal would come down of its own accord," they added. "Unfortunately that hasn't been the case and a member of our animal rescue team is now in the process of trying to gain access to the shop to assess the situation." The squirrel was eventually captured in a humane trap. A Greggs spokesperson said: "We're making sure the squirrel is rescued and let back into the woodland. Once the shop has been thoroughly cleaned, the shop will reopen as normal." Greggs posted a video showing the squirrel being released into Faskally Wood on the banks of Loch Dunmore.
Squirrely Jokes
What is the difference between a rat and a squirrel?
Answer: The puffy tail.
Moral: never underestimate the power of marketing.
I went to the park and began feeding the squirrels. I instinctively fed the smallest and skinniest before the others. The woke environmentalists kicked me out!
They said I was Crittersizing.
What's a squirrel's favorite way to watch TV?
Nut-flix!
Maybe there wouldn't be so many endangered species if they did not make such a big deal of who is on their list. – Maxine
September 28th Birthdays
1972 – Gwyneth Paltrow, 1967 – Maria Canal Barrerra, 1964 – Janeane Garofalo, 1992 – Kelly McCreary
1954 – Steve Largent 1988 – Kevin Durant, 551 – Confucious, 1943 – Lech Walesa
Morning Motivator:
People often say that motivation doesn't last. Well, neither does bathing.