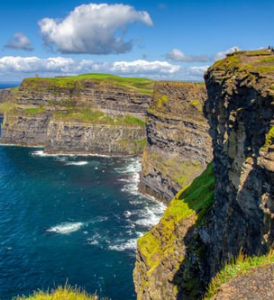 Rose Zhang was diving in the ocean off Oahu's South Shore. Rose is with the Ocean Defenders Alliance has been cleaning up garbage in the form of fishing lines, hooks and even tractor tires in Hawaii since 2017 to help sea life. "One of the more unusual things that we've found was this GoPro still sealed in the case," she shared. Rose went through the memory card, and found that the files still worked, with the last video from July of 2014. Zhang posted the video to her social media account, which eventually made its way to 26-year-old Oahu resident Nainoa Kamai, who had made the jump off the cliffs when he was 18 back in 2014. "I started getting a bunch of messages of this video of me from seven years ago and I was like what is this? I clicked on it and I was like, no way. somebody found the GoPro," Kamai said. His mom had bought the GoPro a few days prior to him losing it on the jump. "I'm surprised it lasted so long," he said. "GoPro is doing something right with their memory cards."
Photogenic humor
If I'm ever traveling near Loch Ness or Sasquatch's lair, I will carry a camera to be safe.
It is a documented fact that these dangerous monsters have never approached anyone who had a camera.
When Apple called the camera app the "iSight" I thought for sure it was a feature that would let me see where I'm walking while I'm texting.
Anyone remember the good old days before Facebook, Instagram and Twitter? When you had to take a photo of your dinner, then get the film developed, then go around to all your friends' houses to show them the picture of your dinner? No? Me neither.
Who is the only person who survives every disaster?
The movie camera-man.
January 26th Birthdays
1953 – Lucinda Williams, 1958 – Anita Baker, 1964 – Cathy Podewell
1967 – Vince Carter, 1961 – Wayne Gretzky, 1981 – Colin O'Donoghugh
Morning Motivator
Success is how much you bounce back once you hit bottom.
But Mom, it was an accident