The cookie crumbles over Dirty Dough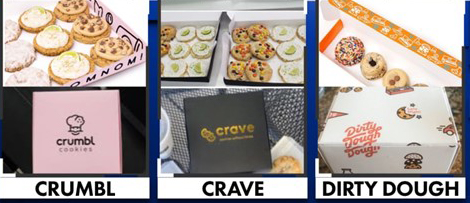 A war started in Utah this year. As the months wear on, the crumbs are spreading and there are broken hearts and recipes all over the country. These are not the defective recipes that the Russian troops get, it is much worse…These are the Cookie Wars. Not just a televised bake off or a one time show on HGTV. The war pits Crumbl Cookies against two other wanna-be's according to court filings. Crumbl Cookies filed trade dress and trademark infringement lawsuits against two competitors; Crave Cookies and Dirty Dough. Crumbl claims things like packaging and products are too similar to theirs. Crave responded, "Huh?! That customers might be confused thinking that they're buying Crumbl when they're actually buying Crave." Crave management said, "I'm not sure I've ever gone to Wendy's thinking I was buying McDonald's." (Note picture above.)
Dirty Dough, on the other hand, decided on a different tactic. The Dirty dough team started to produce ads on social media, making light of the legal drama, and creating publicity around the so-called "Utah Cookie Wars." "If it's out there, we want to control the narrative because it's so silly," said Dirty dough. The ads have helped create chatter and publicity on social media. Influencers, micro-influencers, and everyday people are posting "cookie taste-offs" on Instagram and TikTok, using the hashtag #UtahCookieWars. It's a Utah cultural phenomenon that no one quite expected.
Obviously, physically I was a little bit ill," said Trent English, owner of Crave Cookies, describing how he felt when he first learned about the lawsuit. Bennett Maxwell, who is the owner of Dirty Dough, had a similar reaction. "Oh, it's just stomach dropping," said Maxwell. Dirty Dough also launched a billboard campaign in Utah, including one that read: "Cookies so good – we're being sued!" "It's a silly situation," said Dirty Dough founder Bennett Maxwell, "and it's just like, OK, we're gonna have some fun with it." He added: "Just imagine pizza companies doing to each other, right? Like sending pictures of a pepperoni pizza, putting them in a lawsuit, and say 'Look, your pepperoni pizza looks mighty similar to mine'." The co-founder of Crave, Trent English, also believes Crumbl's accusations are half-baked. "Our branding is black and gold. [Crumbl's is] pink and black. Their logo is … a chef wearing a hat. Ours is two overlapping cookies," English said. "I don't really see any confusion at all. I think most people can tell us apart just fine." "And if the marks don't look alike," she added, "that's where the cookie crumbles."
Funny Crumbs
What did the Hershey's bar, the marshmallow, and the cookie use to communicate?
S'morse Code.
Website… "We use cookies to improve performance."
I do the Same.
I have 10 cookies, you take one. What do you have now?
A black eye, broken hand, and no cookie.
Gilligan eats the last package of cookies on the island.
Ginger snaps.
What do you call the art of folding cookies?
Oreo-gami
November 24th Birthdays
1978 – Katherine Heigle, 1990 – Sarah Hyland, 1993 – Hande Ercel, 1972 – Lola Glaudini
1888 – Dale Carnegie,1925 – William F. Buckley, 1997 – Peyton Meyer, 1983 – Gwilym Lee
Morning Motivator:
We have no problems, only opportunities to improve.