Chicken with good service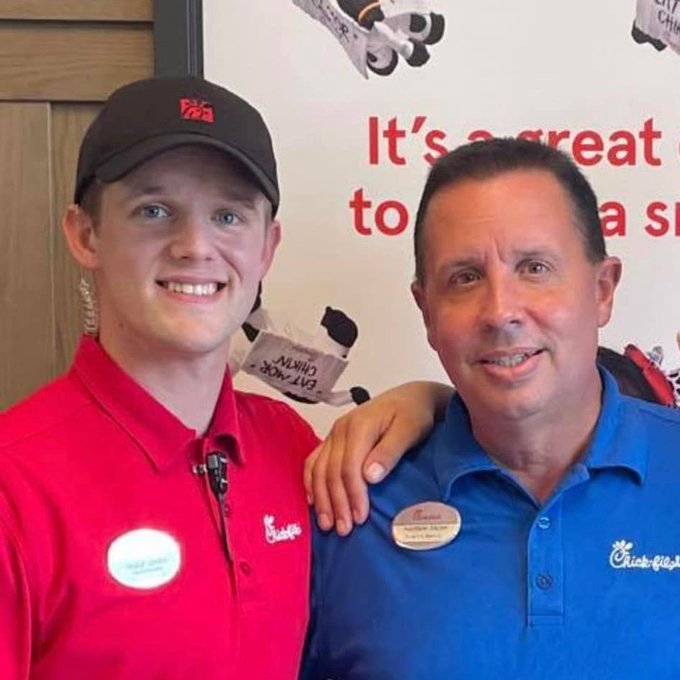 Thomas "Mykel" Gordon does not seem like a superhero just looking at him. In fact, he looks younger than his 26 years and how many superheroes work at Chic-Filet? But that might be his superpower, it is not what he looks like outside, but what motivates him on the inside. According to sheriff's deputies in Fort Walton Beach, FL Mykel was working his job at a local Chick-fil-A on Wednesday when he heard a woman outside screaming while holding a baby. The woman had been getting the infant out of the car when a man wielding a sharpened board from a local construction site approached her and demanded her keys. He then snatched the keys from her waistband, opened her car door and got in the vehicle as she shouted for help. Mykel heard her, ran to her and began tussling with the assailant. Mykel was punched in the face by the perp, according to authorities. A bystander's cellphone video recorded Gordon taking the other man down, rolling around with him on the pavement and putting him in a headlock. A woman holding a baby with one arm and waving with the other screamed "Somebody help!" as Mykel struggled with the man. Gordon seemed to have subdued the would-be carjacker just as some co-workers and at least one customer rushed out from inside the restaurant to help him. Sheriff's deputies later arrived and jailed a man whom they identified as 43-year-old William Branch with one count each of battery and carjacking with a weapon. They said they also booked him with another carjacking attempt reported minutes earlier.
Incredibly, it wasn't even the first time that Thomas "Mykel" Gordon rushed to save someone in distress near his workplace. Four years earlier, he had reportedly helped rescue two girls after a construction crane fell on their car. In 2018, as Mykel took drive-up orders outside the same Chick–fil-A, a trucker equipped with a crane failed to negotiate a nearby turn and rolled the crane on to a car with two 17-year-old girls inside. Gordon ran up to the crushed vehicle, picked up one of the girls off the ground then brought her to the grassy roadside and tried to calm her. That girl told him her friend was in the car still alive. Gordon saw the other girl struggling to crawl out of a small opening on the passenger side of the smashed car. He realized he couldn't get her out by himself, but he ran inside to grab ice and towels. Eventually, a group of others – including a former firefighter – forced open one of the destroyed car's doors, and the second girl was able to wiggle free.
Country fried humor
KFC released the "Biden" bucket of chicken
Its full of left wings and 20%more expensive.
I ordered 3 drinks at Chic Fil-a
….so they wouldn't think all 60 chicken nuggets were for me.
I saw a bunch of old people protesting outside of Chick-fil-A
They were raising canes.
After hearing about the boycott, I've decided to give up eating Chick-Fil-A
…but only on Sundays.
November 28th Birthdays
1988 – Karen Gillian 1989 – Scarlett Pomers, 1976 – Sunny Mabrey, 1979 – Aimee Garcia
1993 – Adam Hicks, 1993 – Jarvis Landry, 1985 – Alan Richton, 1929 – Barry Gordy
Morning Motivator:
Experience is the child of thought, and thought is the child of action.