The theater is a Landmark now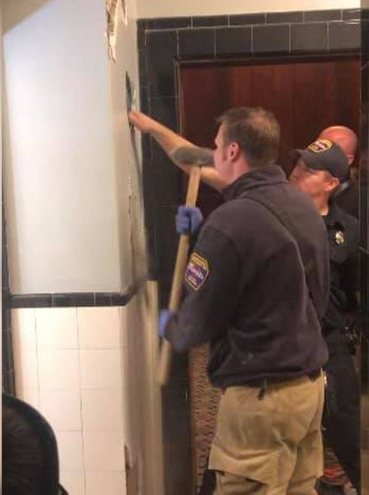 Around 7:30 a.m. the Syracuse fire department responded to a report of a man stuck in a wall in the downtown Landmark Theatre. Friday an employee came to work at the theatre and heard the man yelling for help and called 911. The 39-year-old man got into the building on Tuesday, police said. He had been seen wandering around the theater, said Mike Intaglietta, executive director of the theatre. Employees who had seen the man lost track of him and thought he had left the building. "I don't know if he was entering to keep warm or to use the bathroom. I don't know." Instead of leaving, the man got into a crawl space in the building, Fireman Kane said. He was in the hiding spot for two days before he fell into a space in the wall of the men's bathroom and became trapped, Kane said. Firefighters drilled a hole in the wall and used a fiber-optic camera to determine the man's exact location. They next carefully cut through several layers of drywall and structural clay tile to free the man, he said. The man was naked when firefighters found him. The man was transported to Upstate University Hospital for evaluation. The man had no visible injuries firemen speculated he was probably suffering from dehydration. At this time, no criminal charges have been filed against the man.
Naked and Confused
What nationality were Adam and Eve?
Russian, of course. Who else would walk around barefoot and naked, have one apple to share between them, and think they were in Paradise?
I close my eyes and it's all naked women.
Did you ever see a psychologist?
No, just naked woman.


I was sitting in a recliner naked eating Cheetos minding my own business
And the Walmart manager calls the police.

Today, I shocked the hell out of the postman by opening the door completely naked.
I'm not sure what surprised him most: my nudity, or the fact that I know where he lives.
December 6th Birthdays
1969 – Macy Gray, 1962 – Janine Turner, 1996 – Stefanie Scott, 1986 – Dulce Maria
1993 – Elian Gonzalez, 1977 – Kevin Cash, 1896 – Ira Gershwin, 1956 – Craig Newmark
Morning Motivator:
Will you look back on life and say, "I wish I had," or "I'm glad I did?"