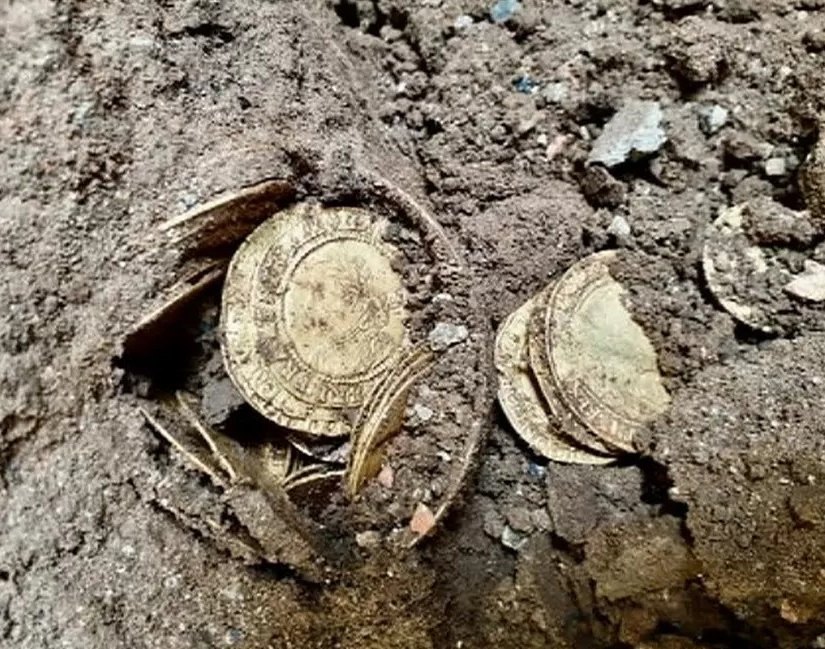 An ambitious young couple in Ellerby, England decided they were tired of their lumpy kitchen floor and tore into replacing it themselves. As the broke up the existing floor they pulled out some concrete and got down to the dirt. As he was using a pick and a rake to break up the ground for the new layer of concrete, the hubby noticed some shiny stuff in the dirt and at first figured he had turned up a wire, but as he tugged around with the pick more shiny gold spots appeared. He examined one and it appeared to be an old coin, but made of gold. He dug a little deeper and found a cup about as big as soda can full of ancient gold coins. The coins, dating from 1610-1727, belonged to the Fernley-Maisters, a Hull family involved in Baltic trading. The couple who found the hoard want to remain anonymous.
When they discovered the treasure trove, the couple reached out to Spink & Son, a London-based auction company, according to the outlet. The company traveled to their home to check out the coins and traced their lineage back to a family nearly 300 years ago. According to The Sun, the gold coins belonged to the Fernley-Maisters, a wealthy family from Hull, England, who were well-known merchants. They also discovered that later generations of the Fernley-Maister family served as members of Parliament and Whig politicians in the early 1700s. The coins were originally estimated to be worth $231,390, but that number turned out to be just a wee bit off — they recently sold at auction for $852,380. "The sale was unique in so many ways," auctioneer Gregory Edmund told The Sun, alluding to "the story of the coins, the method of discovery and the rare opportunity to buy them at auction." One of the coins, a Charles II guinea, even had a mint error on it — instead of "CAROLVS," it was accidentally spelled "CRAOLVS." Another coin was a rare Scottish issue. Not a bad return on sweat equity.
Remodeling chuckles
Here I am, watching "Property Brothers" and the lady's "profession" is dog manager. Their budget is $725,000. What am I doing wrong with my life?
I just invented a DIY surgery kit
It's called Suture Self.
My husband is so good at home repairs that they have a special VIP area for him in the emergency room.

Every time I walk down the gadget aisle at my local home improvement store,
The stud finders go berserk.
November 29th Birthdays
1981 – Janina Gavankar, 1977 – Anna Faris, 1968 – Dany Garcia, 1979 – Lauren German
1940 – Chuck Mangione, 1955 – Howie Mandel, 1922 – Minnie Minoso, 1989 – Russell Wilson
Morning Motivator:
We learn wisdom from failure much more than from success.