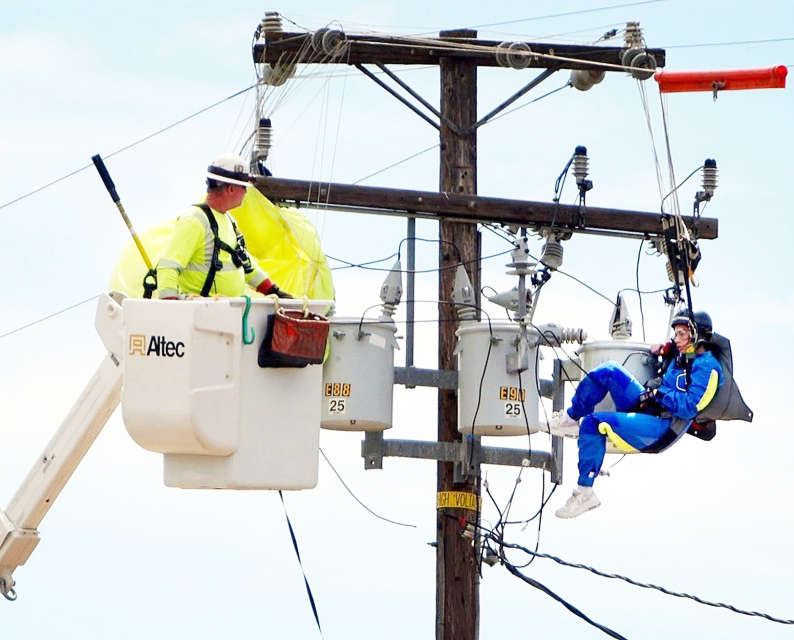 She wants to remain anonymous. So we will call her the flying "Angel." Angel made her first skydive this week outside Los Angeles. The ill-fated parachutist is a student at Skydive Elsinore and was making her inaugural jump Monday using her own canopy, according to Josh Hall, the skydiving facility's general manager. "The parachute opened properly and was in perfect working order. At some point during the parachute descent, the jumper became confused and flew away from an open landing area and into power lines." The woman said after her rescue that she was trying to avoid another set of electrical lines when she wound up getting ensnared in power lines on Croydon Street. Fire Chief Roberts said his crews respond to skydiving incidents regularly. This is the second time in a year they have responded to incidents of a skydiver becoming stuck in power lines after miscalculating a landing. Battalion Chief Jeff Roberts, of the Cal Fire/Riverside County Fire Department, said he does not know how the skydiver avoided electrocution, "but she did," he noted.
Crews from Cal Fire/Riverside County Fire Department found the unfortunate skydiver dangling from the SoCal Edison's high-tension electrical lines above the street level. "She was just up there chilling, which was surprising because that's pretty scary." Firefighters had to wait about 40 minutes for utility workers to cut power to the wires to avoid electrocution during the rescue operation. Once the power was off, the rescue company pushed a hydraulic ladder up to the women and a firefighter got her out of the harness and walked the woman down the ladder to safety. Angel said she is "not sure" how she survived but was "super thankful." Reflecting on her harrowing ordeal, she said: "it was very, very scary, but I was trying not to panic." She was evaluated at the scene but refused further treatment because she did not sustain any injuries. When asked if she would consider taking to the skies again after her brush with death, the skydiver sounded skeptical. "I don't know if I'm going to jump again," she replied. "Probably not."
Angel above me, Electric
I went skydiving today.
The guy strapped himself to me, we jumped out of the plane, and as we began to fall, he yelled in my ear, "So how long you been an instructor?"
Vladimir Putin, Joe Biden and Kim Jong-Un jump off a cliff. Who wins?
Mankind.
My skydiving instructor would always take the time to answer any of our stupid first timer questions. One day, a guy asked, "If our chute doesn't open, and the reserve doesn't open, how long do we have before we hit the ground? Our instructor looked at him and in a perfect deadpan voice, answered, "The rest of your life."
Why do skydiving companies have excellent reviews?
Because it was awesome for the people who survived.
March 31st Birthdays
1981 – Christine Barger, 1982 – Jessica Joseph, 1986 – Jessica Szohr, 1948 – Rhea Pearlman
1944 – Christopher Walken, 1975 – Adam Green, 1971 – Ewan McGregor, 1685 – J.S. Bach
Morning Motivator:
"You miss 100% of the shots you don't take." – Wayne Gretzky