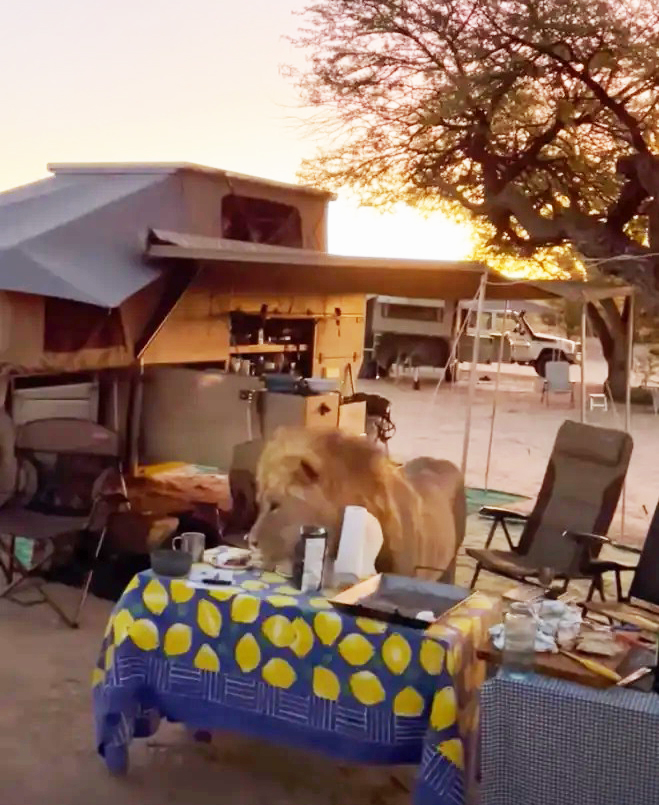 A couple wanted to have a real experience of camping in the bush to be near the African wildlife and feel that "African vibe." They got their wish by camping in a wildlife park in natural reserve in Kgalagadi, Botswanna. The video below gives you glimpse of the folks, their equipment and their tent as they got ready for supper and to bed down for the night. They were part of a regular grouping of tents and set ups for tourists who are willing to sign away their life and pay for the privilege of encountering African animals up close and personal. They understood, "Lions come into the camps unannounced and in total silence as it happened to us." It was a once in a lifetime experience," said an unidentified videographer.
The big cat can be seen calmly strolling through the campsite and sniffing around the dinner table. Male lions can grow to 10 feet long and weigh as much as 550 pounds this one came within easy mauling distance. As it eventually leaves the scene, the camera turns to a family, standing perfectly still and silent a few feet away. One of the campers told Storyful that the family had agreed before setting up their stuff that should they have such an encounter, they would "not go running, as it would encourage most wildlife to chase." "If anyone panics and runs or makes sudden movements, the chances are high that they may be attacked." She said that being in such surroundings was a privilege, but that there was "no room for error."
The campsites best suited to hardy campers, with thick sand and limited shade. The best camp sites are under the shady trees. The barricaded ablution blocks are to ward off thirsty elephants trying to access water during dry season. Savuti is known as one of the noisier choices of camp (both human and animal noise) but it's also one of the most exciting, with a good chance of lions, elephants and hyenas wandering into camp at night. Campers must be on guard against these dangers, especially with small children. It's important to stay in your campsite after dark and drive rather than walk to the bathroom.
The lion ain't sleeping
After eating an entire bull, a mountain lion felt so good he started roaring. He kept it up until a hunter came along and shot him. The moral: When you're full of bull, keep your mouth shut.
Why don't lions hang out with other species?
"Their pride gets in the way."
A biker is passing the zoo when he sees a little girl leaning into the lion's cage. Suddenly, the lion grabs her by the cuff of her jacket and tries to pull her inside to slaughter her under the eyes of her screaming parents.

The biker jumps off his motorcycle, runs to the cage and hits the lion square on the nose with a powerful punch. Whimpering from the pain the lion jumps back, letting go of the girl, and the biker brings her to her terrified parents, who thank him endlessly.

A New York Times reporter has watched the whole event. The reporter says, "Sir, this was the most gallant and brave thing I saw a man do in my whole life." The biker replies, "Why, it was nothing, really, the lion was behind bars. I just saw this little kid in danger, and acted as I felt right." The reporter says, "Well, I'm a journalist from the New York Times, and tomorrow's paper will have this story on the front page… so, what do you do for a living and what political affiliation do you have?"

The biker replies, "I'm a U.S. Marine and a Republican."

The following morning the biker buys The New York Times to see if it indeed brings news of his actions, and reads, on the front page:

"U.S. MARINE ASSAULTS AFRICAN IMMIGRANT AND STEALS HIS LUNCH."
May 31st Birthdays
1965 – Brooke Shields, 1924 – Yael Grobglas, 1961 – Lea Thompson, 1988 – Hope Partlow
1943 – Joe Namath, 1977 – Colin Farrell, 1930 – Clint Eastwood, 1972 – Christian McBride
Morning Motivator:
Never judge a man by how many times he falls…
but by how many times he gets back up!