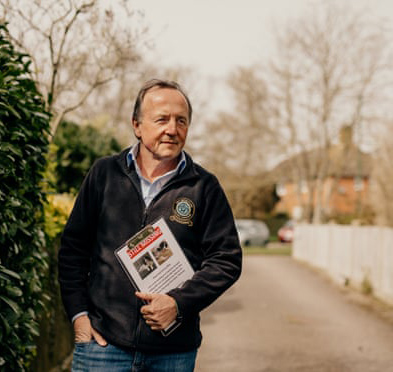 The crime scene was the village of Partridge Green in West Sussex on a gorgeous Spring morning. The early mist has burnt off; a wood pigeon coos; a flurry of pink snow falls from a showy cherry tree. Butcher – ex-police (you can tell) is now company director and chief investigator of The UK Pet Detectives – is on the case. He steps from his Range Rover wearing a fleece with an official-looking badge and "UKPD" emblazoned across the back; a twist on NYPD, except PD stands for Pet Detective. "I know the impact of seeing that UKPD – it's such an international sign," he says later, putting the jacket on before knocking at an address linked to his main suspect. Butcher has been hunting for stolen dogs since his time in the police. Now he is a private detective and has been highly sought after this past year. The rise in demand for dogs during the pandemic is well documented. ER nurse Botting called the police the morning after her dogs went missing. An officer came the following day and took a statement. But she hasn't been overly impressed by their activity, or lack of it. Butcher says he works alongside the police, trying not to step on their toes. He understands that they're under-resourced, and don't have the community networks or specialist knowledge that he has. Also they have to gather evidence in order to build a case and get a prosecution. "That's not my job – my job is to get dogs back for people who are really distressed." He goes out on his own social media platforms and is then shared among groups of dog lovers. He also has a network of volunteers around the country – they might be veterinary nurses or breeders – that he can ask to make discreet inquiries in their area after a dog theft. Butcher understands the power of social media. Old media, too – this is by no means his newspaper debut, and he's often on the TV, usually accompanied by his own spaniel, Molly. Ms. Botting says it was someone on Facebook who told her about Butcher. "And my aunt messaged me and said, 'I've seen this man on the TV, get him involved,'" she says. Normally he charges £100 an hour, but there's no charge for Botting because of her job. Plus, it's a good story.
Solving the crime
My wife told me we should split up because I keep pretending to be a detective.
I said good idea, we can cover more ground that way.

The Police Station had been quiet for most of the week. Things were so slow that detectives were playing cards to pass the time. "What a life", grumbled one of the officers, "no fights, no thefts, no drunks, no murders, nothing." "Now rest easy Mike," said the captain, "things will break soon. You got have more faith in human nature."
What did the retired detective call his new real-estate business?
Sherlock Homes.
I knew a detective who always wore a cat costume.
One day I asked him why.
He told me "I am always in purrsuit."
December 2nd Birthdays
1984 – Daniella Ruha, 1967 – Lucie Liu, 1981 – Brittany Spears, 1990 – Cassie Steele

1989 – Alfred Enoch, 1983 – Aaron Rodgers, 1981 – Jo Lo Truglio, 1947 – Vic Buk
Morning Motivator:
Success is not final, failure is not fatal: it is the courage to continue that counts.