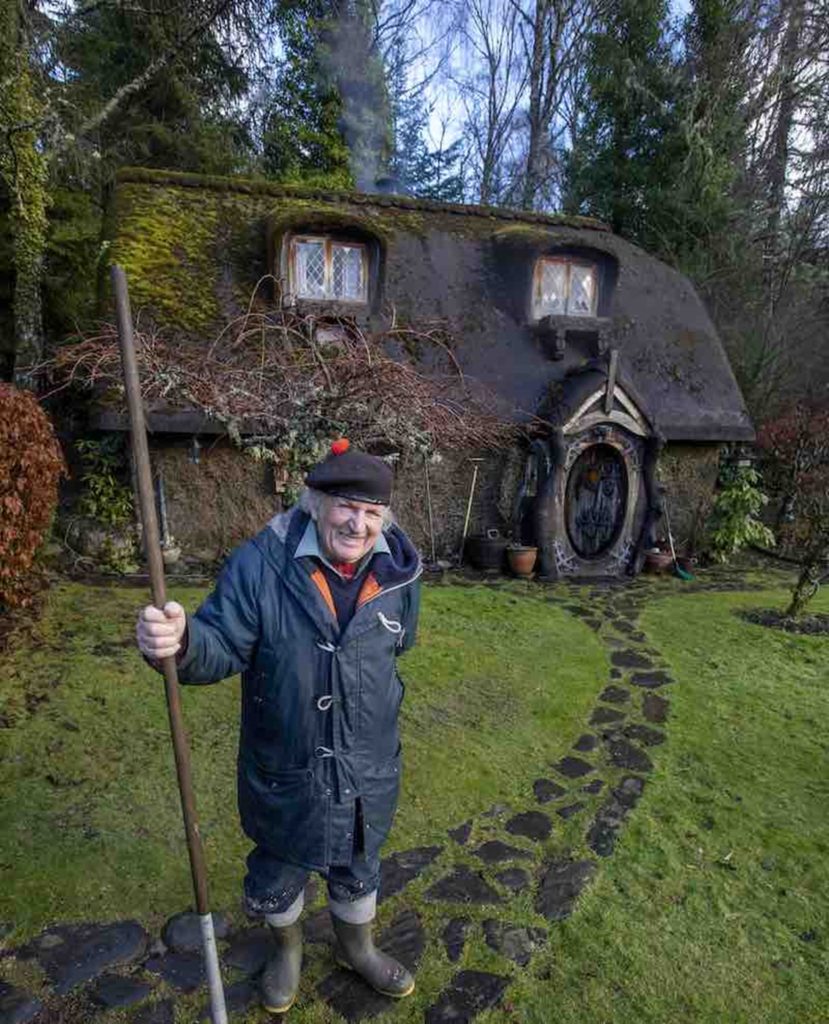 Nestled in woodland, with its porthole door and moss-covered roof, this idyllic little cottage would not look out of place in a Tolkien novel. But this 'Hobbit House' is the creation of an 89-year-old carpenter – who has never even seen Lord of the Rings. Great-grandfather Stuart Grant, who celebrates his 90th birthday tomorrow, moved into the 200-year-old cottage in Tomich, near Inverness, Scotland in 1984 while he was renovating a nearby house. At the time, the abandoned, dilapidated property had no roof and no doors, but Stuart enjoyed doing DIY building work on the quirky outbuilding so much that he decided to make the abandoned house his home. Stuart has suffered from chronic fatigue syndrome, for 46 years, which meant he worked 'in slow motion' on the three-bedroom rustic property.
Mr. Grant does not have a mobile phone or use the internet and no longer drives due to his age, but he loves getting out and meeting people. Stuart said: 'I haven't watched Lord of the Rings. 'It's just a coincidence that my front door is almost the same shape and same kind of wood, oak. There are stained glass windows on each side of it. 'Before me there were cows, calves and chickens living in here, and a donkey. 'It was a shoemakers' cottage and a workshop. There was no roof, just four walls which are 200 years old. 'It is not a fancy house, it is made from other people's leftovers.' Stuart paid £600 for one acre of land which had a house and the cowshed (now the cottage) added: 'I was always a glutton for scenic beauty, beautiful houses, and thatched cottages in England. He added: 'I thought I would make it comfortable. I was getting such a buzz out of doing it. I don't know how much it cost. 'I cut the wood myself from fallen trees and collected stones from the river for the stonework. I put the stairs in. 'It took quite a few years, I never counted them. I just enjoyed doing it so much. I got carried away.
The house was featured in an article for a Belgium tourist website in 2017, and he says since then he has been inundated with French visitors who told him a tourist board had said one of the things to do in the north of Scotland is "visit the Hobbit House." As the tourists began coming—by busloads—they would routinely apologize for disturbing him say they would probably feel a lot better if there were a collection box. He eventually acquiesced, but insists no one has to put anything in it. Fast-forward to the present and he has collected about $6000 in donations which he gave to the needy in the area.
Holy Hobbit habit
My girl keeps having disturbed dreams, shouting things like "Hobbit!", "Gandalf!" and "Mordor!"
Always Tolkien in her sleep…
Where do the sauciest Hobbits live?
The Worcestershire.
A hobbit always sets his cellphone to vibrate.
Because he's afraid the ring would give him away.
Some people say that elves are very shy
But I think hobbits can be Shire
Two elves walk into a bar
A hobbit walks under and laughs.
January 18th Birthdays
1989 – Ashley Murray, 1997 – Sarah Gillman, 1987 – Becca Tobin, 2001 – Romy Weltman
1955 – Kevin Costner, 2000 – Mateus Ward, 1980 – Jason Segel, 1779 – Peter Roget -Thesaurus and Slide rule
Morning Motivator:
To thrive in life you need three bones. A wishbone. A backbone. And a funny bone.