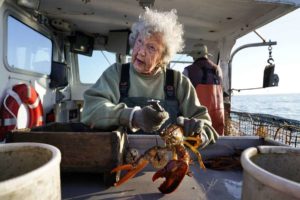 Virginia Oliver may be the oldest person in the world still lobstering. Virginia was born in Rockland, Maine 101 years ago. So it has been only the last 93 years she was out in the waves bringing in the harvest of the sea. She still goes out on her son's boat three times per week, hauling the traps and sorting the catch to be legal size. Virginia used to live alone but nowadays her 78-year-old son Max spends the nights at her house. It makes it easy for the two to wake early …"I usually get up quarter of five…" Virginia Oliver lobsters her 200 pots. Her sea legs aren't as steady as they used to be, but she might be more at ease on a rocking boat than possibly anywhere else. Max hauls the pots while Virginia bands the lobsters. She is right-handed, but has to use her left because she broke her wrist a few years ago. When she's not busy with lobsters, she fills bait bags; mother and son work in quiet harmony. Wayne Gray, a family friend who lives nearby, said Oliver had a brief scare a couple of years ago when a crab snipped her finger and she had to get seven stitches. She never even considered hanging up her lobster traps, though. "They call me the Lobster Lady." What does Virginia like best about lobstering, "being the boss." She doesn't go out if she doesn't want to, but she likes the independence life on the water has afforded her and her family. When I ask Virginia when she thinks she'll retire her lobster pots, she quickly answers, "When I die." "I like doing it, I like being along the water," she said. "And so I'm going to keep on doing it just as long as I can."
From trap to pot
I dated a woman who thought she was a lobster.
She was the most shellfish person I ever met.
Lobster have survived for 650 million years despite not having brains.
This gives me hope for the next generation.
How can a woman say she's been shopping, when she hasn't bought anything? Why does the man say he's been fishing when he has not caught anything?
You know Red Lobster food is good because they're a seafood restaurant that specializes…in BISCUITS.
September 22nd Birthdays
1986 – Tatiana Maslany, 1959 – Elizabeth Pena, 1964 – Bonnie Hunt, 1982 – Billie Piper
1988 – Tom Felton, 1959 – Andrea Bocelli, 1971 – Chris Tallman, 1961 – Scott Baio
Morning Motivator:
There is no way to Happiness, Happiness is the way.