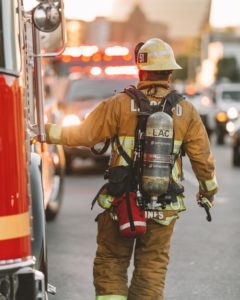 More than 100 Los Angeles city firefighters live out of state and make commutes from as far as Florida, officials said. About 3% of the department's 3,350 sworn members really, really commute. Most of the out-of-staters are tenured firefighters, which includes engineers, apparatus operators and captains, as well as two battalion chiefs. Although LAFD does recruit and hire firefighters who already live in other states, most of these 110 firefighters were hired first, then eventually moved elsewhere. LAFD Capt. Christian Granucci, who commutes back-and-forth to Los Angeles, was quoted in a 2018 story, saying that he "Moved to Texas … for the freedoms that it offers." Granucci lives more than 1,200 miles away from Los Angeles. So, how do firefighters manage their work shifts while make such lengthy commutes? LAFD's staffing model allows for firefighters to work 24-hour shifts and gives employees the latitude to work overtime shifts or trade shifts. Using this model, the department's members who live out of state often try to work multiple days straight. This way, the out-of-state firefighters have more off-duty time to be at home. Firefighters can rest between shifts at fire station sleeping areas while off duty. Long range commuters cite lower living costs and less restrictive laws in other states. LAFD paid a record $220 million in OT in 2020.
Where is the Fire?
A bar is burning and a team of firefighters rush in. When they get inside, they find an Irishman passed out from smoke inhalation. They drag him out of the bar and eventually the Irishman comes to. The firefighter says, "You were there, how did this whole thing get started?" The Irishman responds "I don't know it was burning when I walked in."
Working at home sucks…
….if you're a firefighter.
Q: Why do firemen wear red suspenders?
A: To keep their pants up.
Q: What does CHAOS stand for?
A: Chiefs Have Arrived On Scene.
September 21st Birthdays
1967 – Faith Hill, 1991 – Christian Serratos, 1981 – Karina Kapoor, 1981- Nicole Richie
1963 – Nick Knowles, 1950- Bill Murray, 1947 – Stephen King, 1972 – Alfonso Riberio
Morning Motivator:
Your success is in direct proportion to the service you give.