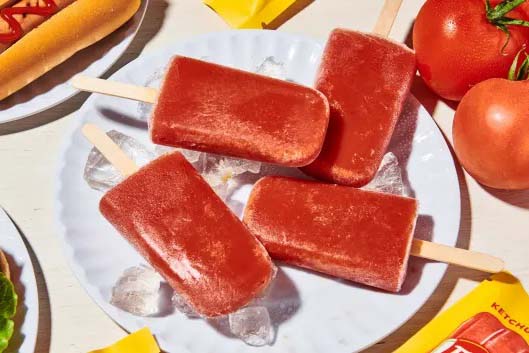 It's not easy being ketchup or being Canadian, but you have to give them credit for innovation. They love ketchup, on everything. So logically French's has begun promoting their Ketchup flavored popsicles with giveaways in several cities across the Great White North. Launching this week, these limited-edition ketchup-flavored ice pops — called a "Frenchsicle" are only available in Canada. They're being given out for free for one day each at pop up locations in Vancouver; Toronto; and Leamington, Ontario. The popsicles were created in collaboration with the Canadian ice pop brand Happy Pops. They use 100 percent Canadian tomatoes and sweetened with organic cane sugar, resulting in what French's describes as a "savory tomato flavor [that] is perfectly balanced with a hint of salty sweetness." "I love creating innovative treats that appeal to Canada's diverse tastes," Happy Pops founder Leila Keshavjee said. "I started Happy Pops to bring all-natural, handcrafted flavor to Canadians, so French's locally-grown ketchup is a perfect pairing. I can't wait for people to try this condiment-turned-popsicle." If the intrigue of a ketchup popsicle alone isn't enough to encourage Canadians to grab one, French's says they'll also donate two meals to Food Banks Canada for every Frenchsicle given away.
While Ketchup pops seem novel, here are a few of gourmet popsicle treats for a hot Summer day you may want to try:
Red Wine Popsicles – Turn old wine into red wine popsicles.
Tiramisu Popsicles – These tiramisu popsicles have two distinct sections. I prefer the icy and sweet coffee layer spiked with a splash of rum.
Thai tea and Sweet Potato Popsicle – combines two ingredients that lend naturally to a sweet dessert, but uses them in a unique and interesting way.
International Spy popsicles – in the shape of a frozen male model (from the waist up) to be eaten, licked or chewed.
Bloody Mary Popsicle – with a strip of cooked bacon wrapped around the stick into the ice.
Cream Puff Popsicle – The popsicle is a light brownish color that mimics the toasty outer layer of a cream puff and on the inside, there's layer of shaved ice wrapped around a creamy custard filling.
Happy creative snacking with adult supervision.
Popsicle Puns
Why can't astronauts eat popsicles?
In space, no one can hear the ice cream truck.
Wife: Are you going back for another wine popsicle? Doesn't that embarrass you?"
"Why should it?" answered her spouse. "I keep telling them it's for you."
How does Reese eat her ice-cream?
Witherspoon.
I overheard a man order a sundae with nuts, but no ice cream.
To me, that's just nuts.
I woke up this morning and saw two birds sitting in the sun in my backyard, eating ice cream.
They were Basking Robins.
June 28th Birthdays
1972 – Aileen Quinn, 1948 – Kathy Bates, 1980 – Felicia Day, 1970 – Tachina Arnold
1926 – Mel Brooks, 1971 – Elon Musk, 1981 – Steve Burton, 1960 – John Elway
Morning Motivator:
"You'll be the same today five years from now,
except for the people you meet and the books you read."