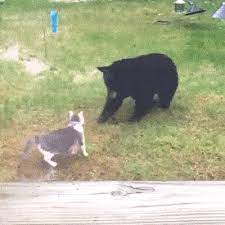 You know the story of David and Goliath, now cat lovers have their hero. "Tigger" the fearless cat facing off against a black bear. Brothers Gavin and Cameron Sturrock said their cat, Tigger, is known to be mischievous and fearless, and can often be found chasing neighborhood dogs away from their home. The brothers said they were loading up the car for a camping trip outside their home in the Canyon Heights neighborhood of North Vancouver when a large black bear appeared in the driveway. "I didn't notice right away, but my little cat was just like — he was right here," facing off with this bear. "He was two feet away from this bear." Gavin said he tried to call Tigger away from the bear, but started recording video on his phone when the feline refused to comply. The video, which he later posted, shows Tigger facing down the bear while Gavin calls for the cat. Cameron, said he was stunned when Tigger arched his back and walked toward the bear — causing the wild animal to flee. "I saw the cat just chase after the bear and I was like no way," Cameron said. The brothers said the bear has visited their neighborhood before, but hasn't been seen since the confrontation with Tigger.
It appears cats can be smart as well as fearless. Police aren't sure how else to explain it, but when an officer walked into an apartment to answer a 911 call, an orange-and-tan striped cat was lying by a telephone on the living room floor. The cat's owner, Gary Rosheisen, was on the ground near his bed having fallen out of his wheelchair. Gary said his cat, Tommy, must have hit the right buttons to call 911. "I know it sounds kind of weird," Officer Daugherty said, unsuccessfully searching for some other explanation. Gary said he couldn't get up because of pain from osteoporosis and ministrokes that disrupt his balance. He also wasn't wearing his medical-alert necklace and couldn't reach a cord above his pillow that alerts paramedics that he needs help. But the 911 call got placed anyway, and when Daugherty arrived on the scene, he found Tommy, the cyber cat, reclining next to the phone.
911 What is your funny
Why couldn't the blonde dial 911?
She didn't know where the 11 button was.

I have never understood why women love cats. Cats are independent, they don't listen, they don't come in when you call, they like to stay out all night, and when they're home they like to be left alone and sleep. In other words, every quality that women hate in a man, they love in a cat.
I was setting a voice recognition password for my new phone and a nearby dog barked and ran away. Now I am still looking for the dog to unlock my phone.


Cats spend two thirds of their lives sleeping, and the other third making viral videos.
June 30th Birthdays
1981 – Karolina Sadalska, 1984 – Fantasia Barrino, 1982 – Lizzie Caplan, 1986 – Victoria Crawford
1966 – Mike Tyson, 1997 – Elliot Fletcher, 1930 – Thomas Sowell, 1985 – Michael Phelps
Morning Motivator:
If it is to be, it is up to me.