Approximately five million bees were buzzing around Guelph Line north of Dundas Street this morning.  Crates carrying beehives fell off the back of a truck and into the road sometime between 5 and 6 a.m. Wednesday and clean up got underway quickly. Halton Regional Police Service officers were called to Guelph Line in Burlington, around 6:15 a.m. after the truck lost its load. A Government official said he suspects the bees may have been coming back from a pollination service — when farmers hire beekeepers to pollinate their crops. One report was that an oncoming driver crossed left of center and the trailer of bees swerved to avoid a collision and lost its load.   Fire crews and police officers were called to the scene, as well as several beekeepers. a driver was charged with two offences under the Highway Traffic Act, including insecure load.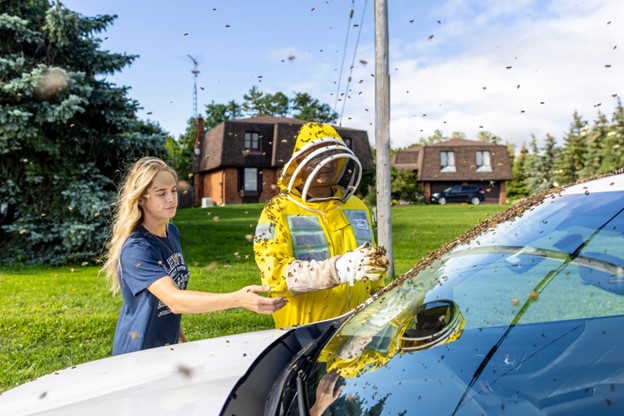 Beekeeper Luc Peters, who was called in to help by police, called the bumbling incident an "unusual case." According to Peters, who takes care of nearly 400,000 bees at the nearby Royal Botanic Gardens, such a large group of bees would normally stay inside their crates instead of flying free. Peters said "a few thousand bees" were likely killed as a result of the spill, but it will be some time before total losses are known. "Thanks to the overwhelming response from beekeepers coming to help we expect the scene to be clear in approx. 30 mins. The majority of the bees have been safely collected and crates will be hauled away," police said. While several beekeepers helping out were stung — a normal occurrence on the job — no one had to be taken to the hospital. The clean-up crew used smokers to calm the bees and get them back into the crates before transporting them.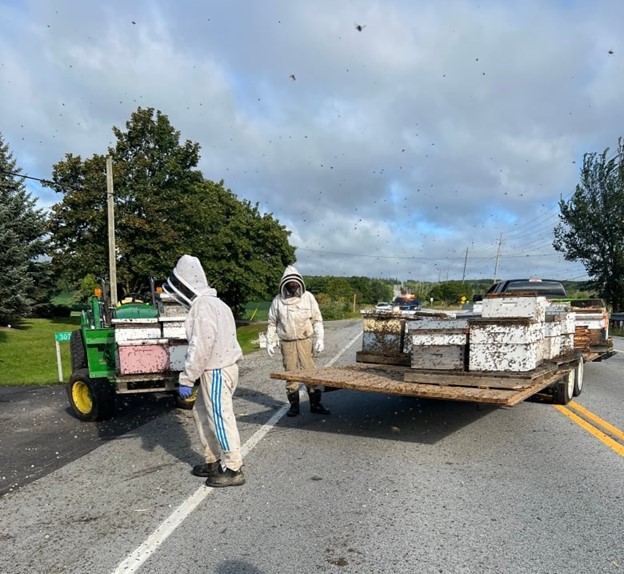 There were still two bee crates on the side of the road as of 1 p.m., and the bees have swarmed onto a nearby mailbox as well. The remainder of the crates have been loaded onto a trailer a few hundred feet from where they initially fell. Tens of thousands of bees are lying dead on the road, while hundreds of thousands continue to fly around the trailer. "The only injuries so far have been to the initial beekeeper on the scene," was not transported to hospital." For anyone who is not allergic, it takes a surprising amount of stings before a real emergency can happen, Dave Stotesbury, beekeeper with Backed By Bees, says. Police and keepers planned to leave some bee crates behind so straggler insects can find their way back. The remaining crates are expected to be picked up sometime this evening. "It's never perfect, you're never going to get every single bee because some of them will be in the air," Stotesbury says. "At some larger spills, you have to bring in pheromone attractants to get the bees to congregate in certain areas."
Bee humorous
If you have a bee in your hand, what do you have in your eye?
Beauty, because beauty is in the eye of the bee-holder.
Where did Noah keep his bees?
In the ark hives.
What do you call a bee that's having a bad hair day?
A frisbee..
A man goes running into a clinic shouting and screaming in pain. "Please doctor! You've got to help me! I've been stung by a bee!" The doctor says reassuringly, "Don't worry, I'll put some cream on it."
"You'll never find that bee. It must be miles away by now."
"No, you don't understand." answers the doctor. "I'll put some cream on the place you were stung."
"Oh! It happened in the garden in back of my house."
"No, no, no!" says the doctor getting frustrated. "I mean, where on your body did that bee sting you?"
"On my finger!" screamed the man in pain. "The bee stung me on my finger and it really hurts."
"Which one?" the doctor asked.
"How am I supposed to know? All bees look the same to me!"
August 31st Birthdays
1952 – Hillary Farr, 1870 – Maria Montessori, 1976 – Sara Ramierez, 1977 – Shar Jackson
1949 – Richard Gere, 1935 – Frank Robinson. 1971 – Chris Tucker, 1985 – Mohammed bin Salman
Morning Motivator:
Some pursue happiness, others create it.