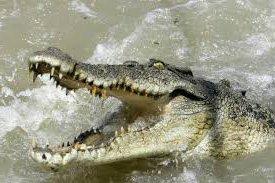 It all started when Scott Roscarel had a nice sized fish on his line and was reeling the catch in. All the splashing and yelling caught the attention of a 12 foot crocodile. The crocodile then starts to chase the big barramundi fish through the lake and as Scott backed away for the water's edge he pulls the hooked fish onto the boat ramp. The fight then intensifies as the enormous creature keeps following. Seconds into the video, Scott's father is then seen leaping back as he realizes that even after maneuvering the fish to dry land, the croc did not give up. In doing so, he also accidentally kicks his hat close to the four-metre beast. Scott's father then bravely goes to get the hat back, even though onlookers are heard screaming "let him have it." In the end, the father and son duo won the fish and the hat as the crocodile gave up and retreated back into the water. Scott wasn't actually bothered about the hat. He even told his father that, "he had 15 hats at home, but I've got only one father." He was delighted with his catch and the fact that his dad did not get any closer to the giant beast.
In the video below another Australian crocodile skips the hat and moves amazingly quickly on land to get the fish in three chomps. The fisherman were disappointed, but not consumed.
Amphibious Humor
The easiest way to distinguish between an alligator and a crocodile
Is to know whether it will see you later or in a while.
What are the two biggest differences between an alligator and a crocodile?
The spelling and pronunciation.
Did you know crocodiles could grow up to 15 feet?
But most just have 4.
The Egyptians claim there are no crocodiles in their country.
I think they are in de Nile.
May 11th Birthdays
1999 – Sabrina Carpenter, 1985 – Jadyn Wong, 1997 – Lana Condor, 2000 – Madison Lintz
1999 – Sabrina Carpenter, 1985 – Jadyn Wong, 1997 – Lana Condor, 2000 – Madison Lintz
Morning Motivator:
A wise man will make more opportunities than he finds.