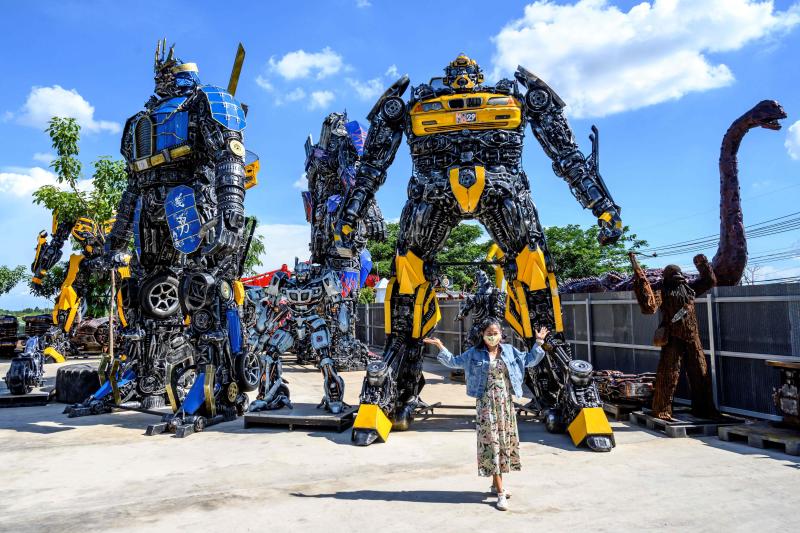 Transformers are everywhere. Not the kind the hangout in the toy box, these are really big! A group of post-80's young men in Baoding, North China's Hebei Province, recently amazed Chinese netizens with their craftsmanship by making replicas of Transformers out of used car parts. Their largest model, an Optimus Prime, is over 37 feet tall. To make the replica, they used worn parts of real cars assembled according to the films and animations, and then cut and welded them together, said Quan Likun, a member of the team. "It may seem easy, but the difficult part is the continuity and overall control," Quan said. He has been making the replicas for more than ten years… In Thailand, Towering Transformers, life-sized Marvel superheroes and extraterrestrial lifeforms — a "House of Steel Robots" has made a name for itself by transforming scrap metal into dazzling sculptures inspired by Hollywood blockbusters. Ban Hun Lek, an hour's drive north of Bangkok, has become a popular weekend spot for families eager for Instagram selfies against a backdrop that looks plucked from the silver screen.
Visitors to Phairote Thanomwong's welding workshop gaze up at 25 foot high sculptures modelled after the robots of the Transformers franchise and a jet-black King Kong hewn together from old car parts. "It was just a hobby at first," he tells AFP. "When I was a child, I liked mechanics a lot… so I made what I liked into my work." Every sculpture is built using scrap metal and recyclables, which makes each creation unique, he said. The towering metal brontosaurus at Ban Hun Lek, which can be seen from the main freeway, draws dozens of Thai visitors each weekend. (In the right-side background of the picture above.)
Even Washington, DC's Georgetown's historic has Optimus Prime and Bumblebee guarding the entrance way of one apartment building much to the chagrin of the local homeowner's association. The 12 foot tall massive metal sculptures are made of real car parts and each weighs about two tons.
Transformer Funnies
I was talking to Bumblebee the Transformer the other day…
I didn't realize he was such a car guy.
We lost power at work today due to someone hitting a transformer.
I never heard if it was a Decepticon or an Autobot.
Where does a transformer get his glasses from?
Optometrist Prime
My girlfriend threatened to break-up with me if I didn't stop acting like a Transformer…
I said, "But baby, I can change!"
May 10th Birthdays
1994 – Halston Sage, 1986 – Odette Annable, 1990 – Lindsay Shaw, 1959 – Ellen Ochoa
1979 – Keenan Thompson, 1960 – Bono (Paul Hewson), 1899 – Fred Astaire, 1955 – Rick Steves
Morning Motivator:
Trouble is only opportunity in work clothes.