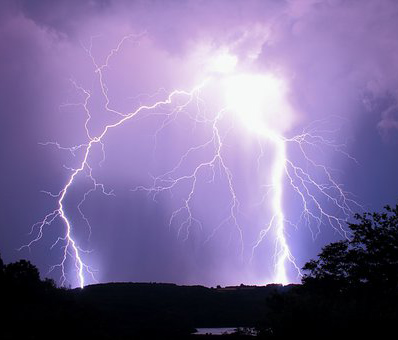 Giana Scaramuzzo was at home reading in her bedroom one evening last week when a thunderstorm rolled through. Suddenly she heard a loud bang and felt electricity course through her body. She was confused and disoriented for a minute and then as she looked around she saw there was a hole in the roof above her and the plaster from the ceiling was scattered all around her bedroom. "All of a sudden I hear the loud sound of thunder, and I see lightning, and I see it reflect from my mirror, and all of a sudden I feel like a shock in my pinky. Then it goes up my body and out through my leg," Giana told WTAE. Although it was a scary situation, fortunately, the teen was physically okay. Giana received treatment on the scene and her blood pressure was normal. The 15-year-old said she was alright. They checked her blood pressure, which was normal, and sent the results of an electrocardiogram, a test that measures electrical activity generated by the heart, to a local hospital. Keith Gray, the fire captain at the Circleville,PA Fire Department, told that station that the lighting went through Scaramuzzo's pinky finger and out of her left leg.
Gina was OK and happy to be alive, but it reminded folks of another incident. This one in Okmulgee, south of Tulsa, OK. A couple had paid the deposit and were going to move into an apartment the next morning. That night there was thunderstorm and lighting struck there too. Lightning appeared to hit a building's roof, strike an exhaust fan and then continue to one particular toilet inside an apartment unit, according to firefighters. Photos that spread on social media show the toilet completely destroyed, with charred pieces of it scattered across the floor, below a black hole in the ceiling. Little else appeared to be damaged in the bathroom. "You'll never see it again in your life. It's almost like an act of God. I mean it's just unexplainable," Okmulgee Fire Lieutenant Rocky Morrow . When firefighters arrived, they had to extinguish a small fire in the insulation, Fire Chief Dewayne Hurt told the outlet. They also found a "slightly" burned rafter in the attic, which is where fire officials believe the lightning struck… Moving in was delayed.
Lightning lifts
"My dad drives like the lightning!"
"Wow, he's that good, huh?"
"Well I don't know. He drives really fast and hits trees."
Why don't Amish people fear lightning…
They resist electricity.
After being hit by lightning on the golf course, Lee Trevino was asked what he had learned from the experience. "When God wants to play through," he answered, "you better let Him."
Heard about the insurance that refused to pay for the lightning damage of the church?
It was judged to be an Act of God, and thus deliberate damage by owner.
May 23rd Birthdays
1978 – Kelly Monaco, 1966 – Melissa McBride, 1974 – Jewel Kilcher, 1928 – Rosemary Clooney
1958 – Drew Carey, 1997 – Akeil Julien, 1961 – Linden Ashley, 1954 – Marvelous Marvin Hagler
Morning Motivator:
Give everything and have no regrets.
Life's too short to be anything but happy.