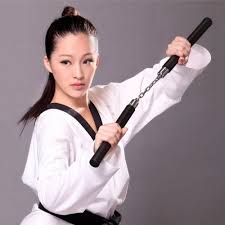 We often associate martial arts and karate with men. But over the years, women of all ages practice combat skills. Now, a video has surfaced on the internet which shows a woman breaking the stigma around the female stereotype. The clip shows a 16 year old woman showing off her martial arts skills using a nunchaku. "Nunchuks" is a traditional Okinawan martial arts weapon consisting of two sticks (traditionally made of wood), connected to each other at their ends by a short metal chain or a rope. The nunchaku is most widely used in martial arts such as Okinawan kobudō and karate. It is intended to be used as a training weapon, since practicing with it enables the development of quick hand movements and improves posture. Possession of this weapon is illegal in some countries, except for use in professional martial arts schools. Nunchaku was originally used by Okinawan farmers as a flail for threshing rice.
In modern times, the nunchaku was popularized by the actor and martial artist Bruce Lee who famously used nunchaku in several scenes in the 1972 film "Fist of Fury." The nunchaku is also the signature weapon of the cartoon character Michelangelo in the Teenage Mutant Ninja Turtles franchise. More than a cartoon character the woman in the video below shows off an amazing skill both sighted and blindfolded using nunchaku to extinguish a number of candles. Further in the video, the woman can be seen blindfolded and shows off her martial arts skills with zero flaws. The caption reads, "This woman looks like she came out of a ninja movie." The video has amassed more than 100,000 views on Twitter with several comments. A commented, "Practice makes perfect." While a third commented, "Very impressive but I want to see the outtake video. How much Coke was spilled before they got the trick right?"
Karate Kinks
I just beat a black belt at karate…
My next challenge is a green sock.
You should never have a fight with me.
I know karate, taekwondo, kung fu and many other Asiatic words.
I went to my favorite bar last night.
A Chinese guy sits down next to me.
I ask him "hey, do you know karate or some other martial art?"
He asks, "Why, because I'm Asian?"
I said, "No, because you're drinking my beer."
My neighbor's son was constantly being beaten at school, so she put him on Karate Classes.
Now he gets beaten both at Karate class and at school.
February 1st Birthdays
1968 – Lisa Marie Presley, 1965 – Sherilyn Fenn, 1988 – Heather Morris, 1988 – Ronda Rousey
1995 – Richard Whisker, 1996 – Rahart Adams , 1969 – Pauly Shore, 1972 – Michael C. Hall
Morning Motivator:
To avoid criticism do nothing, say nothing, be nothing.