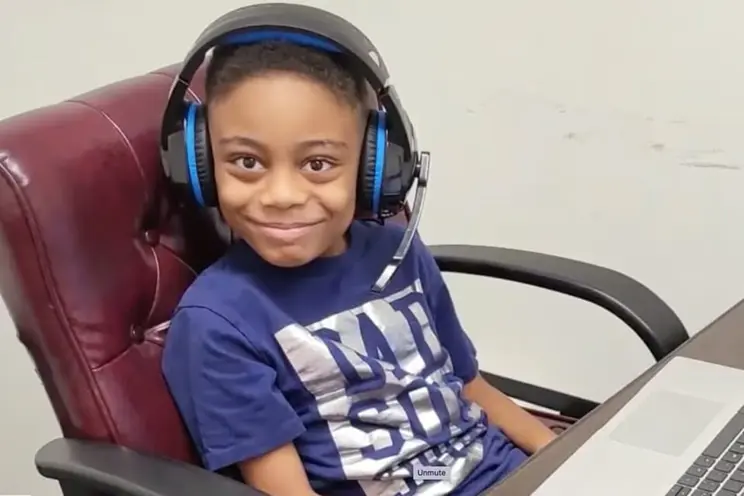 9-year-old David Balogun wants to be an astrophysicist and study black holes and supernovas. Based on his performance so far he has a good chance. See, this guy that would normally be in the fourth grade just graduated high school and is attending community college. The pride of Harrisburg, PA has gotten a lot of attention for his amazing intelligence. David is also working on getting his black belt in karate, has already completed a semester at Bucks County Community College and is looking into continuing his education at a four-year college or university. The boy's parents, who have advanced degrees, said their son is unusually gifted. "He's a 9-year-old with a brain that just has the capacity to understand and comprehend a lot of concepts that's beyond his years and sometimes beyond my understanding," said his mother, Ronya.
David Balogun started at Harrisburg-based Reach Cyber Charter School as a third-grader, and now has been awarded his high school diploma after completing the required classes virtually from his home in Bensalem. "I wanted to do it because I had the ability to do it," Balogun told WPMT-TV. "So why not use those abilities for the greater good?" David became the youngest student to graduate from Reach Cyber Charter School. The 9-year-old said initially he didn't set out to go to college early but when he realized it was possible, he made it his goal. "At the beginning, I just wanted to graduate early," David said. "And then after third grade, the teacher said that I should go to fourth grade … so at that point, I decided I want to graduate at the age of 10. And my mom said, if you put the effort in, we will advocate for you and you probably will be able to graduate at the age of nine. So I decided, OK, I'll graduate at the age of nine." Henry Balogun, David's dad, said, "It has always been my joy to see my son in this position today. This is fantastic and we are deeply grateful to God that he was able to achieve his goal," he added. "He's still on his way. He has not reached the end yet and now he is in college." Ronya Balogun said her message to other parents is to support your child whenever possible. "It's very rewarding but you have to kind of get yourself outside of the box and be able to see things outside of the system and advocate and speak up and not give up," she said.
February 8th Birthdays
1995 – Molly Burke, 1990 – Danni Harmer, 1997 – Kathryn Newton, 1985 – Cecily Strong
1975 – Seth Green, 1828 – Jules Verne, 1932 – John Williams, 1955 – John Grisham
Really smart people puns
What do you call a person in the White House who is honest, intelligent, and law-abiding?
A tourist.
The market is weird. Every time one guy sells, another one buys, and they both think they're smart.
Democrats and liberals always say they are smarter than conservatives. If that is true, why do Democrats always have so many problems getting a photo ID?
LAWYER: Now sir, I'm sure you are an intelligent and honest man.
WITNESS: Thank you. If I weren't under oath, I'd return the compliment.
Morning Motivator:
When deeds speak, words are nothing.