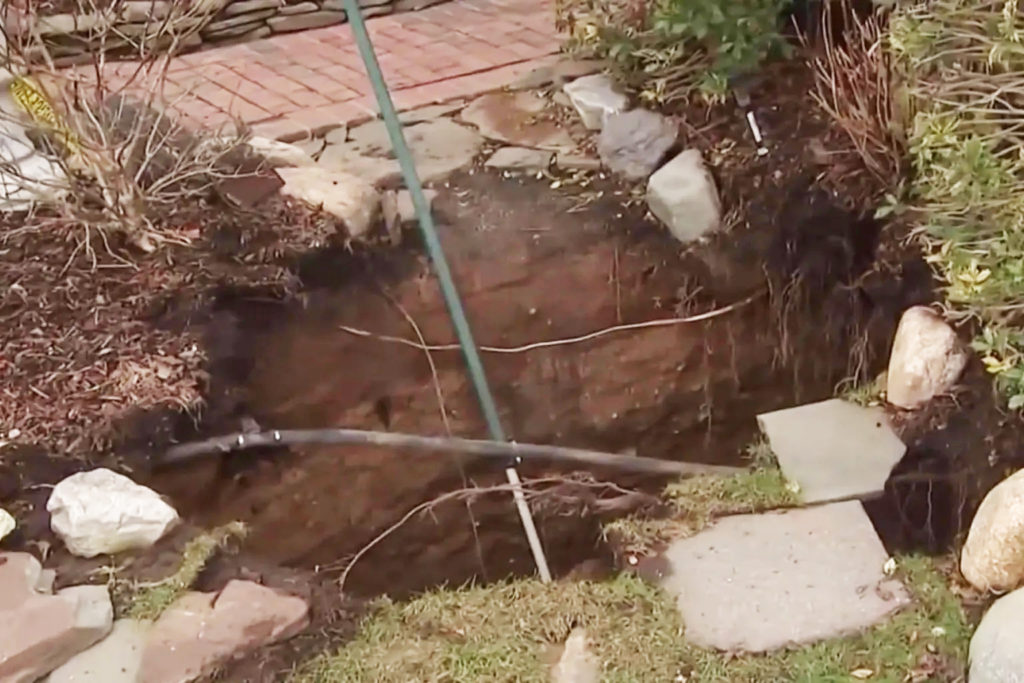 Luz Bedoya left her home on West 10th Street in Huntington Station just after 6 a.m., while it was still dark outside, the Ring camera clip shows. Luz was going to work with her white winter coat on. The 70 year old walked across the lawn on the stepping stones that would take her to her car, but she never made it. Gravity and a sinkhole got her. She fell into a pit about 8 feet deep and about 10 feet across. Fortunately for her she fell purse and all almost straight down into knee length water and mad. She was scared and confused especially in the dark. But in a couple of minutes Luz had the presence of mind to start yelling and used the cell phone in her pocket to call 911.  A neighbor lady came out of her house hearing the yelling and stepped into the same hole. At this point it is still pretty dark., but all the yelling woke the neighbors, and a third neighbor joined the subterranean group.
A neighbor, Benjamin Orengo, told the network he also contributed an extension cord to help the victims – one of whom was his wife – who were trapped in mud that reached above their knees. One responding police officer reached into the hole and pulled one of the victims to safety – while another officer put a neighbor's ladder in the hole so the other two could climb out. Luz and one of the other victims were taken to Huntington Hospital for an evaluation. The third victim was not hurt, authorities said. No one was seriously hurt. The Town of Huntington Building Inspector was called to inspect the property and determine the cause of the hole, police said. Town officials suspect a water pipe link, coupled with the heavy rain, might be the culprit, according to WNBC.
Sinkholes are dramatic because the surface land usually stays intact for a period of time while the dirt a few feet down is washed away until the underground space just get too big, to support the surface. When there is not enough support for the land above the spaces, then a sudden collapse of the land surface can occur. Sinkholes are common across the Southeast US and Florida particularly.
Punxsutawney Puns
How is coronavirus in DC like Groundhog Day?
If you stick your head outside and encounter another person, you get 6 more weeks of quarantine.
Can't believe the film Groundhog Day started 56 years ago?
It feels just like yesterday.
Has anyone played that weird Mexican carnival game where groundhogs pop out of holes and you have to smear them with avocado?
I really suck at Guac-a-mole.
I love February because it contains two of my favorite annual events:
Groundhog Day, and the State of the Union Address. One involves a meaningless ritual in which we look to a notoriously unreliable mammal for prognostication with no basis in reality. The other involves a groundhog.
February 3rd Birthdays
1984 – Natalie Taylor, 1982 – Bridget Regan, 1981 – Alisa Reyes, 1980 – Maitland Ward
1894 – Norman Rockwell, 1995 – Thomas Janson, 1960 – Lawrence Taylor, 1981 – Jose Antonio Vargas
Morning Motivator:
When you hit bottom, things start looking up.