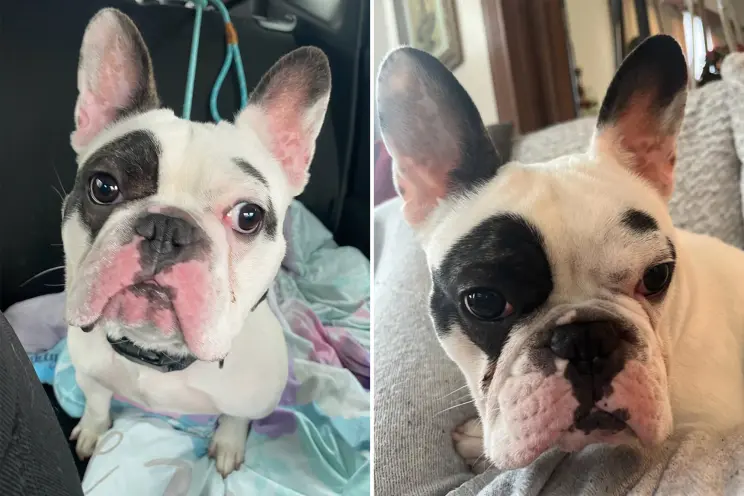 Ralphie is cute and a little bundle of energy. He seems to prefer being around people and will protect his house and all your possessions…as long as you do not try to take them from him. Ralphie is not a stranger to publicity. He was noted in the press and the Niagara shelter publicity before his latest placement. For all the good intentions and the planning, Ralphie the "fire-breathing demon" dog has been returned again to the Niagara County SPCA just two weeks after he found his third home. His latest adopter described the friskie Frenchie as a total "jerk," was reportedly too much for his temporary owners. "While the adopter had the right kind of household, Ralphie proved to be more than she could handle."
Instead of re-homing him immediately, the shelter is enrolling the "terror" bulldog in a six-week, $6,000 sensitivity training course Monday in an attempt to rectify his behavioral problems. The SPCA is also trying to raise money to pay for the affirmative action training in the hopes it will help lure a potential adopter who is willing to risk it all — even their ankles. The shelter is seeking someone locally who is able to work with the trainer and welcome Ralphie home immediately after the course. Dog ownership "resumes" should be sent to dragonadoption@niagaraspca.org. The agency warned wannabe owners not to apply if they are "believers that all Ralphie needs is love. He will totally exploit that." "Those who think our restrictions of no other animals or no kids do not apply to them," the post continued. "Just no. Ralphie has a bite history. You should not want that for your child- 2 legged or 4 (but possibly 3)."
Some Equity Facebook users were outraged the shelter would promote a pup with a "bite history," but rest assured, the SPCA said its workers have had no problems managing the poorly behaved pooch. Ralphie has "a popular public interest story because [he's a] 'cutesie,' fun bad boy," the shelter wrote in an online comment. "It's what will helped us raise the money for training." "Trust that we've been forthcoming with anyone that has been interested in Ralphie," the employee added. "We've said plenty of times, we've used humor, but his behavior is no joke. The ideal home for Ralphie is with the Mother of Dragons, or an adult home free of other animals, with an owner who will lead him calmly and sternly — putting up with zero crap." Those interested in adopting the 26 pound "terror" should send a letter of interest and dog experience "resume" to the Niagara SPCA.
Bad dog chuckles
At a workshop on dog temperament, the instructor told us of a test for canine's disposition. The owner was to fall down and act hurt. A dog with a bad temperament would try to bite the person, whereas a dog with a good temperament would lick his owner's face and show concern. Once while eating pizza in the living room, I decided to try this out on my two dogs. I stood up, clutched my heart, let out a scream and collapsed on the floor. The dogs looked at me, glanced at each other and raced to the coffee table for my pizza.
Did you hear about a saint who trains animals?
He taught his dog to heal.
A friend's dog swallowed a cushion. The vet has described its condition as comfortable.
With a dog, you feed her, give her plenty of affection, take her for walks and she thinks, "Wow, this lady must be God." With a cat however you feed her, you love her, you care for her and she thinks, "Wow, I must be a God."
February 23rd Birthdays
1974 – Emily Blunt, 1971 – Nicey Nash, 1994 – Dakota Fanning, 1971 – Neicy Nash
1868 – W.E. B. Dubois, 1963 – Bobby Bonilla, 1984 – Aziz Ansari, 1982 – Josh Gad
Morning Motivator:
The more I know about people,
the more I like my dog. -Mark Twain