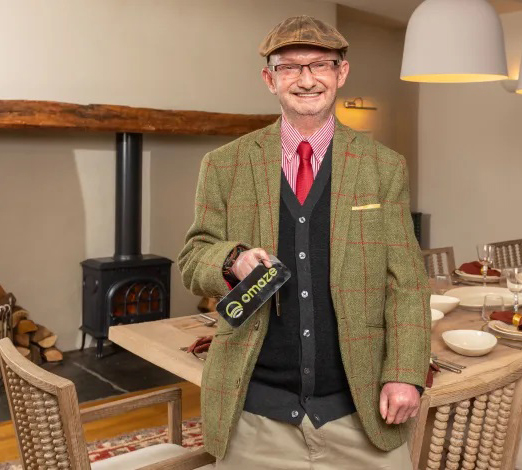 Grant Carson who has spent years helping disabled people find homes has won a $3 million country house in a raffle. The five-bedroom farmhouse complete with eight acres of the Lake District after entering the" Omaze Million Pound House Draw." Omaze is a company that runs high stakes drawings and lotteries around the world to raise money for charity. The Omaze drawing was held to raise money for "Dogs Trust," the UK's largest dog welfare charity. The house raffle was organized by Omaze, a charity raffle that lets people support a good cause with the hopes to win a prize, such as a guitar played by Jimi Hendrix, or lunch with George Clooney, or in this case a house. Grant is a 58-year-old widower said that he can now get a dog, which was what he always wanted, but was always out of the question due to chronic arthritis he has had since he was seven. Carson worked at the same Glasgow charity for 27 years helping disabled people with all aspects of life, and had never won anything before. He was understandably stunned when the Omaze team surprised him at his three-bedroom home in Glasgow. "It's not your average Friday night that someone comes to your door and tells you that you've won a $3 million house," said Carson. "I might be one of the luckiest men in Scotland." "I've just left my old job doing out placement for disabled people across Glasgow, which I had done for 27 years, but this win has given me a financial security I'd never dreamed of, which means I can focus on my new venture helping organizations to meet the needs of disabled customers with a lot less pressure." Grant spent $120 for 850 tickets for the raffle.
The new home is surrounded by "idyllic countryside" and he can "definitely afford a dog walker," because along with the house he was also given $120,000 in cash. Carson is not compelled to live in or keep the house. He can either move in, rent it, or sell it. If he does decide to rent it out, local real estate agents estimate the property could yield more than $6,000 a month from rentals. The beautifully finished five-bedroom 18th century farmhouse is set in more than eight acres of land offering incredible 360-degree panoramic views – just a short drive from Lake Windermere. "I love the Lake District, it's one of the most beautiful places in the country, I'm still pinching myself that I actually own a house here," said Carson. "I'm not sure what I'll do long-term yet, but I'm going to move in for a while and enjoy it." It boasts a standalone guest suite with vaulted ceilings and its own kitchen, bedroom, bathroom and living space. The house has a tree-lined garden with an extended patio area built on original farmyard cobblestones. The 6,000 sq ft, 18th century property has been renovated while retaining its original features The rural idyll also boasts a standalone guest suite with vaulted ceilings and its own kitchen, bedroom, bathroom and living space. The link below will show you pictures of the estate interior.
Winner's whimsies
My ex-girlfriend just told me she wants us to get back together again.
MAN, I sure am LUCKY!
I mean, first I win the lottery and now THIS!!!
Meeting my wife was like winning the lottery…
…because 3 years later I was completely broke.
Wife: Would you still love me if you won the lottery?
Husband: Of course…."But I'd miss you."
The father of five children had won a toy at a raffle.
He called his kids together to ask which one should have the present.
"Who is the most obedient?" he asked. "Who never talks back to Mother? Who does everything she says?"
The five kids answered in union. "Okay, Dad. You get the prize."
February 7th Birthdays
1973 – Essence Atkins, 1980 – Cerina Vincent, 1995 – Xenia Goodwin, 1991 – Rachel Sibner
1964 – Nicolas Cage, 1966 – Chris Rock, 1962 – Garth Brooks, 1978 – Ashton Kutcher
Morning Motivator:
He that waits upon fortune, is never sure of dinner.