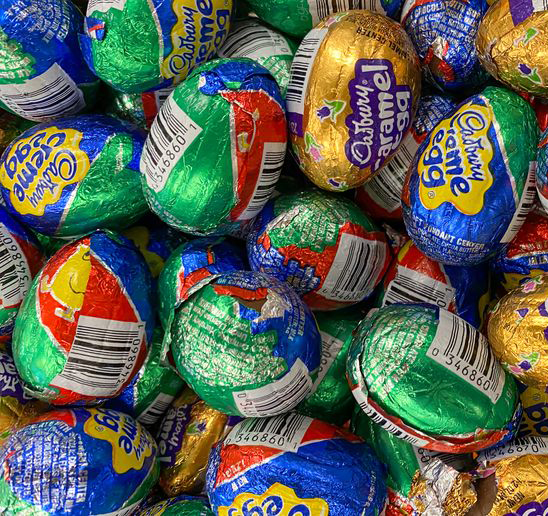 Joby Pool, 32, was dubbed "the Easter Bunny" by English police while they scrambled to protect and maintain one of England's best known legacies. At the time they did not know Joby, but everyone in England knew that Easter had been ruined because some evil, conniving criminal had stolen the Easter eggs. Not the eggs from chickens or ducks, even worse the Chocolate Cadbury crème eggs wrapped on colorful foil for the drooling mouths of millions of Britons. Needless to say both the police and the media took this assault and insult on British tradition very seriously. Police knew the "Bunny killer" had used a hand grinder to cut the lock on the candy company parking lot and then hijacked an entire tractor-trailer combination filled with those little packs of rich, chocolatey pleasure.
Opening the facts of the case on Tuesday, prosecutor Owen Beale told the court: Pool, a self-employed ground worker, used a tractor unit that had been stolen in the Yorkshire area in October to tow away the trailer full of chocolate, which was then driven away, eventually reaching the northbound M42. Pool was spotted by police and "gave up at junction 11 and walked towards the police with his hands up. He was arrested and the entire load was recovered." "This clearly wasn't spur-of-the-moment offending, if I can put it like that, because he had brought a tractor unit and he had to know that the load was there in the first place," said Beale. Pool had a record and the prosecutor said, "This is clearly an organized criminal matter. You don't just happen to learn about a trailer with that kind of value being available."
The defense attorney offered: "The Easter Bunny stopped the vehicle when he realized he was being followed. Everything stolen had been recovered and that will no doubt assist the owners of the various items that have been taken." "There has been no interference with the food products that were taken – they will be in "mint" condition that they can go back on the shelves." In a series of tweets on Monday, West Mercia police described the incident as an "eggs-travagent theft" of a "chocolate collection box." The Police said they had "helped save Easter for Creme Egg fans." Joby Pool is facing two years in prison after pleading guilty Tuesday to stealing nearly 200,000 Cadbury Creme Eggs worth over $37,000, Pool will be sentenced at Shrewsbury crown court on 14 March.
Easter bunny arrested
Life is like a box of chocolates
It doesn't last as long for fat people.
A mummy has just been discovered in Egypt covered in chocolate and nuts.
Archaeologists believe it may be the Pharaoh Roche.

Why do trans women go by she/her?
Because if they went by her/she they'd be chocolate.
What do music and chocolate have in common?
They're better without the wrapper.
February 20th Birthdays
1991 – Lucy Watson, 1966 – Cindy Crawford, 1929 – Amanda Blake, 1949 – Ivana Trump
1989 – Jack Falaheen, 1978 – Jay Hernandez, 1963 – Charles Barkley, 1983 – Justin Verlander
Morning Motivator:
The first step to getting the things you want out of life is this: Decide what you want.