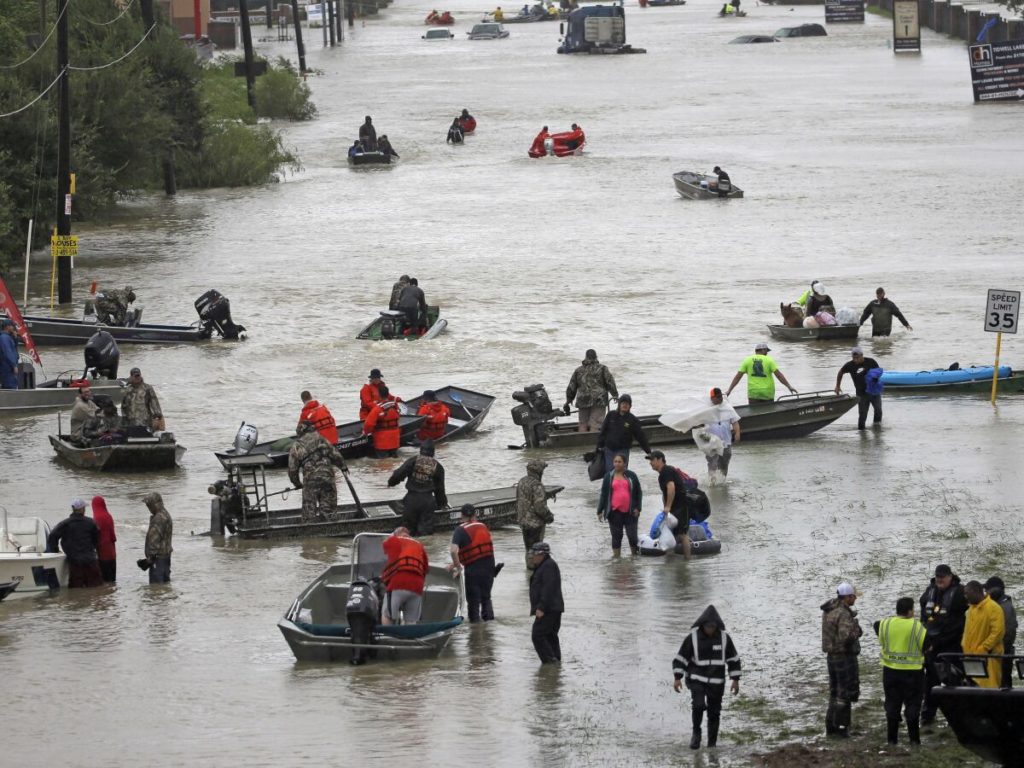 The Cajun Navy are informal ad hoc volunteer groups comprising private boat owners who assist in search and rescue efforts in the United States as well as offer disaster relief assistance. They are credited with rescuing thousands of citizens during those disasters. The group draws its name from the region's Cajun people, (originally exiled from Canada) a significant number of whom are private boat owners and skilled boat pilots. Their boats consist of a number of types, but are typically small vessels such as bass boats, air boats, and other small, shallow-draft craft easily transported to flooded areas. During recent flooding in Louisiana 3 young men were part of the Cajun Navy. They climbed in a boat and started patrolling the overflowing streets of Baton Rouge. They came upon a woman who had driven into a street that was now a flowing river. The woman's convertible was about two-thirds submerged and she can be heard asking for help. "Oh my God, I'm drowning," the woman is saying from inside the car. Our heroes pull up in a boat and try to break a window on the car to free the woman, but they aren't successful. The car keeps sinking and one of the men jumps out of the boat onto the car and starts to tear through the convertible's fabric roof.
The video below, broadcast on WAFB, shows three men on a boat desperately trying to break into the red soft-top convertible as it sinks into the floodwater. The primary rescuer, identified as David Phung, jumps into the murky water and pulls the woman out from the car's sunroof as the vehicle completely submerges. Immediately she tells the man who saved her to get her dog, which was also in the car. He reaches inside and tries to find the dog but can't find it and says he thinks the dog is gone. "No, she better not be," the woman said. Phung disappears in the water and emerges with the panicked pet. "I got the dog, I got the dog," he shouts. His partners in the boat throw in some life preservers as David, the woman and the dog paddled and walked to safety higher ground. Thanks to Phung's quick thinking and his partners commitment everyone got out alive.
Wanna ride in my boat?
My husband told me I could choose the name he'd paint on the back of his new boat with the condition it be nautical themed. So I named it…
"For Sail."
What's the difference between a zoo in Louisiana and a zoo anywhere else?
In Louisiana, next to the plaque with the animal's name, they've got a good recipe.
My neighbor got a boat, so I had to get one, too.
I couldn't resist the pier pressure.
When rowing a boat, do you use the left paddle or the right paddle?
Either oar.
January 31st Birthdays
1976 – Priety Zieta, 1971 – Minni Driver , 1974 – Portia DelRossi, 1964 – Martha McCallum
1919 – Jackie Robinson, 1981 – Justin Timberlake, 1996 – Joel Courtney, 1978 – Bobby Moynihan
Morning Motivator:
"Do or not do. There is no try." Yoda