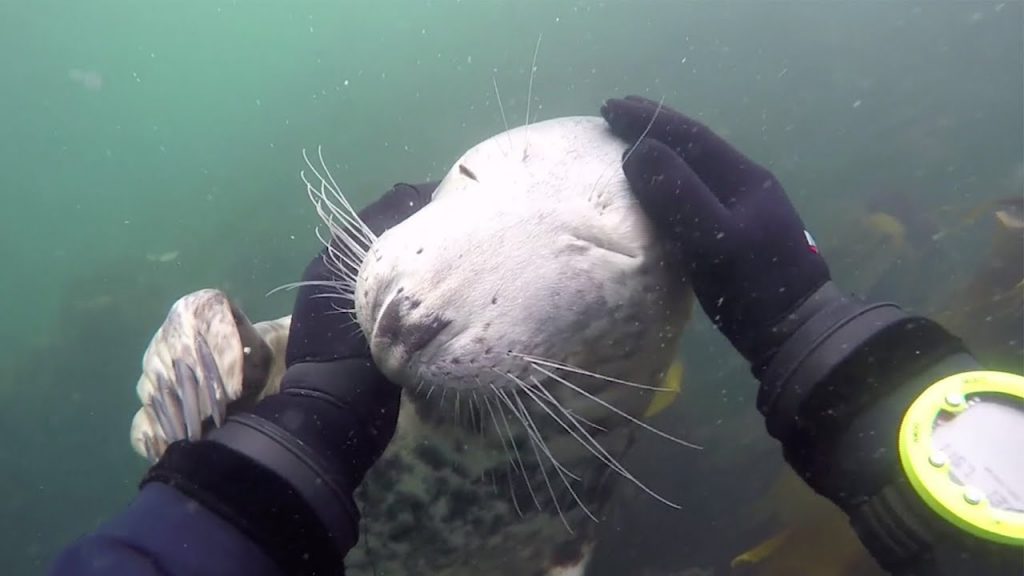 Gary Grayson is an Englishman whose hobby is scuba diving. There are only a couple spots on chilly old England where the conditions are favorable for these dives. Gary was diving with his film crew off the Scilly Islands. They came upon an Artic Grey Seal that was looking for a friend. At the beginning of the film, as Gary goes as close as possible to the beast, you can see the seal getting a good look at the diver. You can see the pleasure on the face of the seal, he's really pleased with the new friend. Once they met, the seal revealed to Gary, what it wanted him to do. In the video below you see the seal cuddling up to Grayson, offering a flipper to him and then taking hold of his hand and placing it on his tummy for a belly rub! Gary began exactly as a dog owner would stroking their pet's belly. The excitement on the face of the seal is obvious, clearly, Gary has hit the sweet spot! After a little belly rubbing, it seems that the seal is getting somewhat sleepy from the belly massage, but snaps when the rubbing stops. The seal tries to return the favor by putting Gary's gloved hand in its mouth for a squeeze. The two go back to looking at one another. It's like they connect without a word, simply by the means of a touch. It's surprising to see a seal being this friendly with a human in some kind of interspecies communication.
Laughing while Scuba Diving
Scuba diving tip: "Welcome to the food chain folks.
You are no longer at the top of it."

My Scuba instructor is named Gill…
Somehow, I find that comforting.

What's the Top Job Requirement for Deep Sea Diver Position?
Ability to work under pressure.
Q: Why don't sharks attack female divers?
A: Because they're man eaters!
December 9th Birthdays
1934 – Judi Dench, 1970 – Kara Dio Guardi, 1962 – Felicity Huffman, 1981 – Mardy Fish

1977 – Shayne Graham, 1953 – John Malkovich, 1980 – Simon Helberg, 1957 – Donny Osmond

Morning Motivator:
If you want to make your dreams come true, the first thing you have to do is wake up.