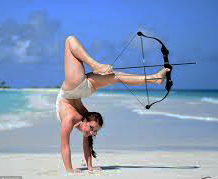 A perfect archery shot can be tough to master, as it requires a lot of effort and patience. However, an Australian woman has left the world amazed with her perfect archery skills and aerobatic prowess. Shannen Jones not just hit the bull's eye, but she did it with her feet while doing a handstand. According to Guinness World Records, Shannen posted a behind-the-scenes video showing how she shot the arrow from a distance of 59 feet and 11 inches and struck the center of a 4.7-inch diameter target last August. The previous record stood at about 40 feet. Shannen earned the record by submitting a video to Guinness World Records in August 2022, getting confirmation she'd been successful in January.
"So now I can officially say that I am the most accurate foot archer in the world." She also said she had been practicing her entire life for the win. Shannen said she practiced foot archery for six years before deciding to take on the Guinness World Record for farthest arrow shot using feet. She said she started competing in rhythmic gymnastics when she was six years old, but only took up archery in 2016 after watching a video of another circus performer doing it online. Almost entirely self-taught, the first step was using sandpaper to train the skin around her toes to grip the bow. "I began learning with my feet before my hands. Foot archery so it's becoming quite popular," she said. She credited her gymnastics background for her strength and flexibility. Her training now consists of a combination of yoga, stretching, Pilates, weights and functional movement exercises. "There's no secret to becoming the world's best foot archer — just a lot of practice, I feel like I have definitely done my 10,000 hours," Shannen laughed.
Anything a man can do right side up
Have you tried blind-folded archery?
You don't know what you're missing.
I wondered what would happen when I fired an arrow straight up in the air,
then it hit me.
I'm quite bad at archery
But I aim to improve.
My partner asked how I got invited to the Archery Champions Ball.
I told her I had to pull a few strings.
January 24th Birthdays
1969 – Mary Lou Retton, 1979 – Kristen Schaal, 1980 – Tatyana Ali, 1987 – Mischa Barton
1949 – John Belushi, 1951 – Yakov Smirnoff, 1939 – Ray Stevens, 1942 – Neil Diamond
Morning Motivator:
Create the highest, grandest vision possible for your life
because you become what you believe.