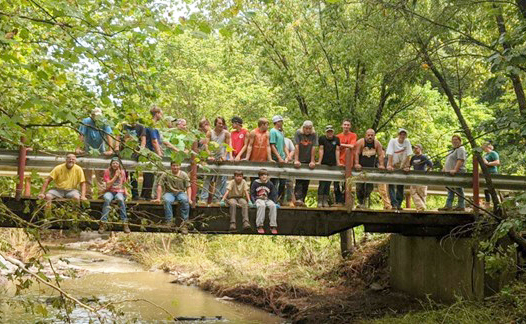 A deadly flood swept through Southeast Indiana. "A flood came through and demolished my bridge," Todd Hagan said. "All we could do was look at each other and say, 'We'll get through it.'" Powerful water blitzed Hagan's bridge leaving him, and his wife cut off from the road and the community. He took to social media but never imagined the response he would receive a call from his grandson's coach Ryan Jesop. "The Hagan's are on the board for our youth football program, drive a school bus, and volunteer for festivals or anything we need," Jesop said. "They have done so much for this community, so it was a no-brainer to help." The Switzerland County football coach quickly drew up a game plan telling his team to leave their helmets behind and trade their cleats for work boots. Hagan received word a crew would be at his house Monday at 9 a.m. to work. "People were walking down my driveway I've never seen before to help us," Hagan said. "It was heart-wrenching and brought tears to my eyes."
Dozens of people, including cub scouts and Indiana Pacer players, took to the bridge and tore it apart plank by plank. Then the team built it back up by creating an assembly line. "One of the biggest goals for our team this year is fellowship, and we have been working on it, Sophomore Linebacker Gabriel Rose said. "Our team saying is 'As one.'" "They were here at nine o'clock, and I looked at my watch when it was done and it was 11:45," Hagan said. "I said, 'You got to be kidding' they rebuilt this bridge in three hours." The Hagan's now reconnected with their community thanks to their grandson's football team. As for Coach Jesop, he is chalking it up as the biggest win of the season. "Our kids are from a very blue-collar, hardworking community, and they didn't think twice about coming up and giving up a day," Jesop said. "We made a joke on the bridge that this is the most labor of love you can do on Labor Day." "The amount of time and energy we put in today is nothing compared to the first responders and fire department," Jesop added.
Team work
Teamwork means never having to take all the blame yourself.
If it first you don't succeed, try management.
Does anyone know what they call winning teams in Chicago?
Visitors.
Did you hear that the US bobsled team put Joe Biden's picture on the front of the sled?
Apparently, nobody else can make America go downhill faster.
Q: Why did Stanford University disband its water polo team?
A: All the "Equine motivators" (horses) drowned.
January 16th Birthdays
1951 – Debbie Allen, 1937 – Marilyn Horne, 1974 – Kate Moss, 1946 – Laura Schlessinger
1981 – Lin Manuel Miranda, 1986 – Joe Flacco, 1995 – Curran Walters, 1980 – Albert Pujols
Morning Motivator:
Set out each day believing in your dreams.