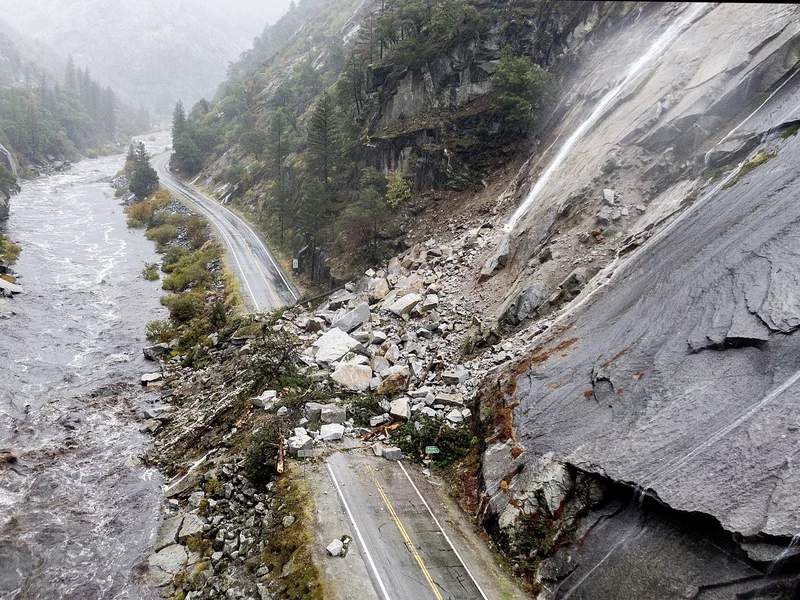 Relentless storms from a series of atmospheric rivers have saturated the steep mountains and bald hillsides scarred from wildfires along much of California's long coastline, causing hundreds of landslides. California has relatively young mountains from a geology standpoint, meaning much of its steep terrain is still in motion and covered in loose rocks and soil that can be sloughed off easily, especially when the ground is wet, according to geologists. Since New Year's Eve, the California Department of Conservation's landslide mapping team has documented more than 300 landslides. The house below had mud and rocks up to the windows. Drought can have a counterintuitive effect when combined with the incredible rainfall California has seen in recent days.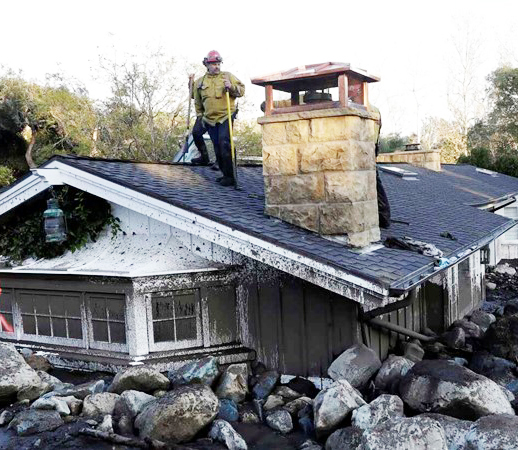 "You'd think if the ground is dry it should be able to absorb a lot of water, but when ground becomes too dry, the permeability of the ground actually decreases." As water runs off the hardened soil, moving downward and picking up energy, it can begin carrying soil and debris away, he said. The most vulnerable areas are hillsides that have burned in the past two to three years with communities below them, said the California Department of Conservation's team. Here is a picture of a house half buried in mud and rocks rolled down from a hillside.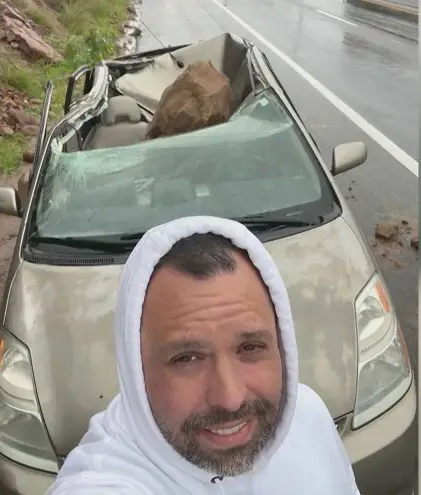 Just to illustrate how chaotic California life can be: "lucky" Mauricio Henao had parked his Toyota Prius across from his house. Mauricio had just parked the car and his cell phone rang. To take the call he got out of the car. "My girlfriend called me and said, 'Hey, can you get my bag that I left there' so I went back inside and I heard rumbling outside," Henao told us. Just moments after he stepped out of the vehicle to take the phone call, he said, he heard a loud noise and saw a 4-foot boulder smashing through the hatchback's roof and coming to rest in the driver's seat. "The rock is the size of the whole hood," Henao told the station KTLA. "The windows are all broken and the frame of the car is just all twisted." Mauricio took a grinning selfie with his mangled car in the background, but he admitted that the incident was no laughing matter. You can see his selfie below and understand what he said. "I'm pretty shook up." "Honestly, I don't think I'll park here again after this. I'm a little traumatized by this whole ordeal." Henao likened his brush with death to a plotline from the "Final Destination" horror movie franchise, but on a lighter note, he suggested that his lucky escape could be a good omen. "I feel like I should play the Lotto," he said. No injuries were reported as a result of the incident, but another nearby parked car sustained damage from falling debris.
Just good luck:
He wrecked his car, he lost his job, he was a drinker, he lived paycheck to paycheck and throughout his entire life he handled his troubles like a man – he blamed his wife.
In my last relationship, I was always there for her and she dumped me. I said: "Remember when your grandmother died? I was there. Remember when you flunked out of school? I was there. Remember when you lost your job? I was there". She said, "I know, you are bad luck."
What did the unluckiest man do when he found the pill of immortality?
He choked on it.
Two things I learned from online dating,
geography and disappointment.
January 17th Birthdays
1922 – Betty White, 1981 – Zooey Deschannel, 1991 – Willa Fitzgerald, 1983 – Lucy Boynton
1958 – Steve Harvey, 1931 – James Earl Jones, 1963 – Jim Carey, 1981 – Dwayne Wade
Morning Motivator:
The only way to do great work is to love what you do.