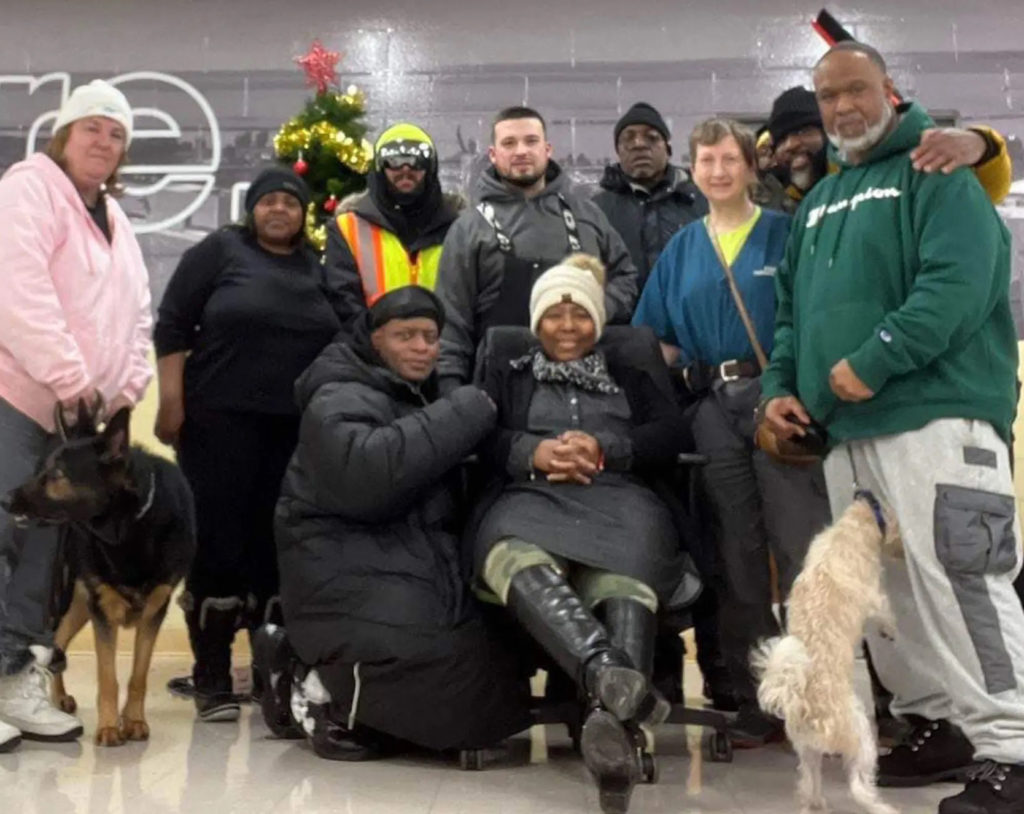 A deadly and once in a century bomb cyclone blizzard barreled through Buffalo, NY last week. Some residents and many visitors for the Christmas weekend found themselves stranded in howling snow with nowhere to go, their cars dwindling in gas supply. Police, ambulance and even fire trucks could not move. More than 35 people died mostly frozen to death under the 40+ inches of snow that fell over two days. Jay Withey, a mechanic in the suburb of Cheektowaga who had ventured out to help a trapped friend, but instead got caught in the snow himself. Over the course of the night, he would be turned away by several people he begged for help, eventually deciding in a final act of desperation to save himself and two others he had picked up in his truck. Withey said, his truck became stuck twice. 'I'm fearing for my life.' Withey called the police but was told that due to the dangerous storm conditions, they couldn't come to rescue him, he said. He also learned that the friend who had called him for help had been rescued by authorities.
At around 11 p.m., he heard a knock at the truck window and opened the door to find Mary, an elderly woman who said she had been stuck in her car since 4 p.m. and needed help. He told her to get in the truck, too. 'I didn't leave until I made sure everyone was okay' By the next morning, Withey's truck had run out of gas, leaving the trio to huddle in Mary's van, which was also running low on fuel. Eventually, Mary needed to use the bathroom. It was then that Withey, sensing she felt embarrassed, looked at his phone's GPS and noticed that a school – EDGE Academy – was nearby, he said. Using an extra set of brake pads, Withey smashed through a window of the school so he could open the front door and let Mike and Mary in, with the security alarm blaring. "I walk outside in the immediate area and there are a lot of older people that are stranded in their cars," Withey said. "One person had a dog, and I get them all into the school. At this point, I have about 10 people in the school."
With the group settled in the school, Withey scavenged for cereal and apples in the cafeteria, managed to turn off the alarm, and found mats in the gym for everyone to sleep on. "Everyone is just so happy to be in the school and to be warm and have food," he said. On Christmas morning, Withey and the others were able to use snow blowers from the janitor's closet to free their cars from the mounds of snow. 'I had to do it to save everyone.' Withey, who describes himself as a religious man, said he views the whole ordeal as a blessing in disguise. If just one person had taken him up on his plea for shelter that night, he would not have saved all those people, he said. Withey stayed at the school until 8 p.m. on Christmas night. "I didn't leave until I made sure everyone was okay," he said, adding that they started a group chat to stay in touch. Before he left, he made sure to leave a note apologizing for the break-in, which police found when they were eventually able to respond to the alarm Withey set off when he entered the school.
Police Chief Brian Gould called Withey's actions heroic and an example of the sense of community among people in the area. "We were absolutely shocked to see that he had over 20 people in the school and two dogs," he said. "He definitely saved some lives that day."
Snow Kidding
Q: Why did Frosty the snowman want a divorce?
A: Because he thought his wife was a flake.
Actually, all this snow is not that bad.
Today I can say that my lawn looks just as good as my neighbor's.
In Canada, we have two seasons…six months of winter and six months of poor snowmobiling.
Snow isn't a problem in the Middle East
…but ISIS
January 2nd Birthdays
1987 – Shelly Hennig, 1983 – Kate Bosworth, 1971 – Renee Elise Goldsberry, 1976 – Paz Vega
1985 – Dax Shepard, 1968 – Cuba Gooding, 1971 – Tye Giggs, 1947 – Jack Hanna
Morning Motivator:
If you think adventure is dangerous, try routine. It is lethal