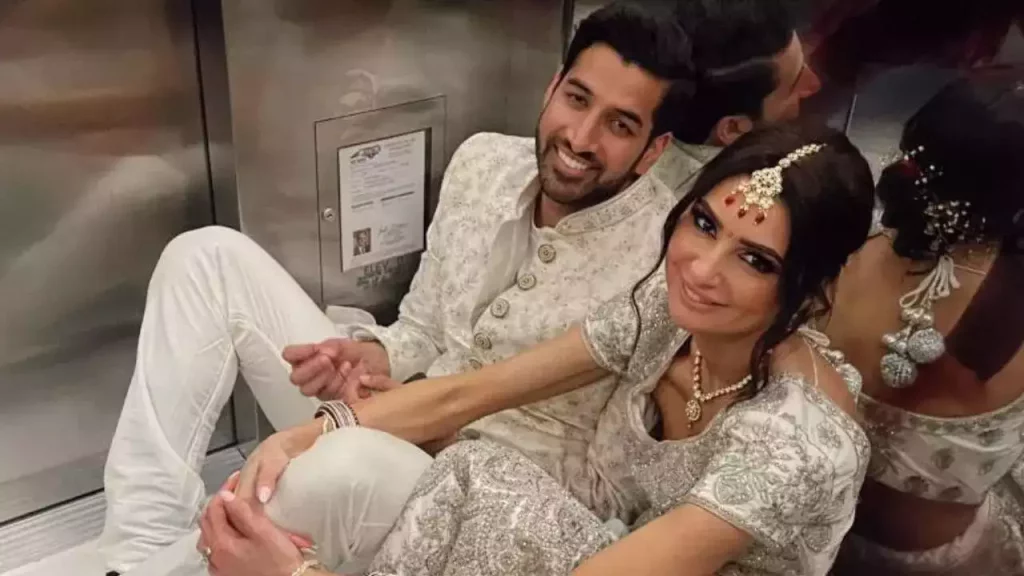 Victoria Jha and Panav Jha were having a great formal wedding at the Grand Bohemian Hotel in Charlotte, NC. They had gone through their Hindu Ceremony and in the ballroom of the hotel had gone through the US legal ceremony before witnesses. They used the time between the ceremony and reception to go up to their rooms to freshen up before the big after party would start. The couple and four members of their wedding were headed to their after-party. That's when things took a turn: They got trapped between the first and second floors. "We got up maybe five feet, and then boom, the doors got stuck," the groom told media. "Then, the doors started to open, so I could see the concrete wall right in front of me, and I could see the concrete wall behind me. I was like, 'That's not normal.'" They got stuck in the hotel elevator for two hours on their special day.
Luckily, the Charlotte Fire Department saved the day. Even though the firefighters receive similar calls on the daily, this rescue was more complicated. "We went through all of the normal troubleshooting that you do on an elevator call, and none of that was working, so that's when we realized we were going to elevate it to what it ended up being, what was a rope rescue," firefighter David Budd recounts. To execute a rope rescue the firemen opened the trap door in the ceiling of the elevator car and one by one put people into a jump style harness and pulled them up two floors with a portable crane they brought in after not being able to get the elevator to move on its own. "We put them in what's called a hasty seat. It's just a simple seat that hooks around them and we hook them up to our rope rigging system."
After rescuing the first person, the firefighters recall that the guest said, "Please get my sister out next. She's the one in the wedding dress!" Two and a half hours later, all six of them were safe. Once the North Carolina-based firefighters rescued the group, they took a photo with the newly married couple and posted it. "Mr. and Mrs. Jha, we hope today is the start of a long and happy life together," the department's social media post says. "We were not able to celebrate or do the last kisses or goodbyes. And that's what put the damper on everything. That's how the wedding night had to end," said Victoria, while Panav described how it felt during the dramatic rescue: "I would say James Bond. Maybe Mission Impossible," he laughed. Panav agrees that the moment makes for a great story. "It's going to be one we remember forever," he shares. "I'm going to tell my kids your mom was so beautiful, the fire department had to come."
Marital Musings
Just think, if it weren't for marriage, men would go through life thinking they had no faults at all.
Some people say their wedding was the best day of their lives.
I'm guessing they've never had two candy bars fall out of the vending machine simultaneously.
Do you agree to be her wedded husband for better, for worse, for richer, for poorer, in sickness and in health till death do you part?
– Yes, no, yes, no, no, yes, no.
A retired husband is often a wife's full-time job.
February 28th Birthdays
1977 – Ali Larter, 1972 – Tasha Smith, 1998 – Olivia Scriven, 1948 – Bernadette Peters
1940 – Mario Andretti, 1929 – Frank Gehry, 1977 – Eric Lindross and Jason Aldean
Morning Motivator:
Blessed is the season which engages the whole world in a conspiracy of love.