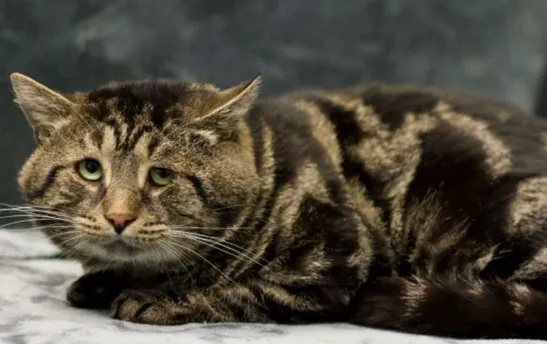 How did an unknown depressed cat, find shelter, a home and fame? Fishtopher became the envy of every street cat and many of the aspiring starlets in Hollywood. The secret is advertising. Getting your name and claim to fame out there, because as in the old Polish saying, "There is a lid for every pot." Fishtopher, a 5-year-old cat, was reportedly "sad and depressed" as he sat at the Homeward Bound Pet Adoption Center in New Jersey waiting to be discovered. The "Quiet," "Couch potato" seemed "out of sorts," the center wrote in its Petfinder listing. He would only "eat when he has company," and he "wouldn't even look up for pictures." Thanks to Elon Musk's Twitter take over on Thanksgiving, Fishtopher's luck changed after a tweet sharing his Petfinder profile went viral. He had been homeless for 39 days. But shelter workers knew Fishtopher had potential. "He is a sweet, easy-going, laid-back boy. Fishtopher loves being petted, and is an affectionate boy," his profile continues. "A big cheeky boy, wouldn't you love rubbing up on those big cheeks? He loves cuddling up in arms, it seems to make him feel secure…. Please come rescue our big loveable boy!" The tweet quickly amassed over 168,000 likes and 21,000 retweets. Many people in the replies shared their own cat adoption stories.
On Saturday, Laura Folts, 22, and Tanner Callahan, 24, were the two who drove two hours from Baltimore to Blackwood, New Jersey, to meet Fishtopher. Laura said that they became interested in adopting Fishtopher after seeing the tweet about him. They said they got to the shelter an hour before it opened, and there were eight or nine others who were there to see Fishtopher. "Knowing he was popular, we drove up to the Homeward Bound shelter with some hopes, but knew if not Fishtopher, we wouldn't come home empty paw'd as we saw a few other cats online that we were considering." "We arrived early enough to be the first ones and he was adopted!" The shelter had literally had hundreds of inquiries from people who wanted to adopt and people were waiting out front this morning in line! Laura said she and Tanner felt Fishtopher would be a good fit in Callahan's quiet apartment. The two have similar personalities because they're both "very quiet but still friendly once they opened up," Laura said. On the journey home with Fishtopher, Laura announced she also started social media accounts dedicated to her new pet. "I want to use this new audience to help other Fishtophers and give people fun cat photos of him chilling at home (which is what the internet was made for)," a Sunday tweet from Fishtopher's account reads.
Depression hilarity
Whoever Stole My Anti-Depressants,
I Hope You're Happy!
Studies show that 80% of the population suffers from depression and the other 20% of you cause it.
What do you call a wine hangover?
The grape depression.
A young man returning a library book about movie stars of the silent film era opened it to a photograph of the Vamp queen Theda Bara and pointed. "Was she really a sex symbol in the 1920's?" he asked. "Yes, she was," the librarian answered. The teenager studied the photograph. "Boy," he said finally, "no wonder you people had a depression."
January 5th Birthdays
1978 – January Jones, 1968 – Carrie Ann Inaba, 1946 – Daine Keaton, 1992 – Suky Waterhouse
1975 – Warrick Dunn, 1932 – Chuck Noll,, 1952 – Sammo Hung, 1975 – Bradely Cooper
Morning Motivator:
Your smile is the universal welcome.