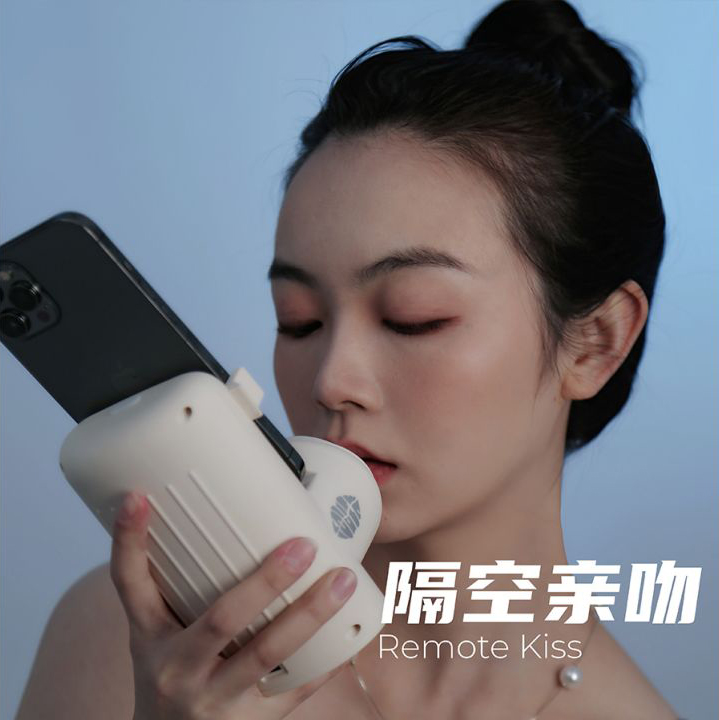 Were you ever a star crossed lover? Longing for that phone call and wishing your dream lover could be right there with you. Thanks to technology started in Malaysia and improved in China you might get part of your wish, but at least a kiss. Jiang Zhongli, the leading inventor of the design at Changzhou Vocational Institute of Mechatronic Technology took the original remote kissing machine and improved it with warm, moving silicon "lips" appears to have just the answer. The silicon device, complete with a set of 3D lips, connected to a smartphone is meant to imitate the pressure, movement, and heat of a partner's lips, The device, advertised as a way to let long-distance couples share "real" physical intimacy, is causing a buzz among Chinese social media users, who have reacted with both intrigue and shock. Driven by its own phone app the "Kisser" is equipped with pressure sensors and actuators, the device is said to be able to mimic a real kiss Along with the kissing motion, it can also transmit the sounds the user makes.
While advertised for long-distance relationships, the Chinese device also allows users to pair up anonymously with strangers in the "kissing square" function of the app. If two strangers match successfully and like each other, they can ask to exchange kisses. Users can also "upload" their smooches in the app for others to download and experience. To send a kiss, users need to download a mobile phone app and plug the device into their phone's charging port. After pairing with their partners in the app, couples can start a video call and transmit replicas of their smooches to each other. The $41 device, available on Chinese shopping site Taobao, also has an option in the app to share kisses with anonymous strangers. "My partner didn't believe that (remote) kissing could be achieved at first, so her jaw dropped when she used it … This is the best surprise I have given her during our long-distance relationship," one user commented. "Thank you technology."
People-less Romance
What happened to the old-fashioned girls that used to faint when they got kissed?
What happened to the old-fashioned men who used to make them faint?
I used to play spin the bottle when I was a kid,
A girl would spin the bottle, and if the bottle pointed to you when it stopped, the girl could either kiss you or give you a nickel.
By the time I was 15, I owned my own house.
The young man sneaked up behind her, covered her eyes with his hands and announced: "I am going to kiss you if you can't tell who this is in three guesses". She stammered and guessed "George Washington, Thomas Jefferson and Abraham Lincoln"
Do you ever wake up, kiss the person sleeping beside you and be glad that you're alive?
Apparently, I did and won't be allowed on Hawaiian Airlines again…
March 1st Birthdays
1990 – Emeraude Toubia, 1954 – Catherine Bach, 1975 – Cara Buono, 1990 – Daniella Monet
1944 – Ron Howard, 1994 – Justin Bieber, 1980 – Jensen Ackles, 1904 – Glenn Miller
Morning Motivator:
Logic will get you from A to B. Imagination will take you everywhere.