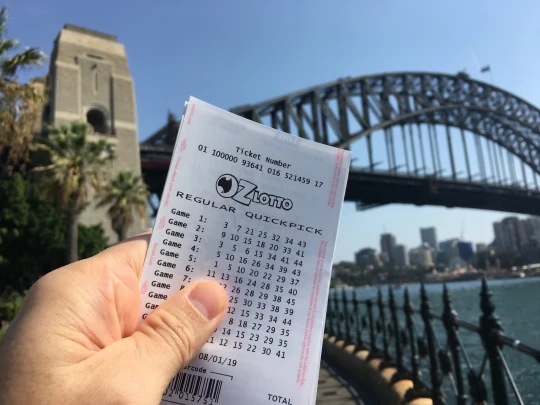 The winning couple has asked to remain anonymous, but the story is pretty recognizable: The wife had concocted a set of the same lottery numbers that she insisted hubby play every day. After 20 years that got boring and probably seemed pretty useless. The Wollongong, Australia man had forgotten to get the weekly ticket as he had promised every time before. His wife got mad at him and freely expressed her feelings. Hoping to get out of the doghouse — and also the poor house — the partner-non-grata decided to "put the numbers on twice to make up for it." So he purchased two lotto tickets at two different newsstands in their suburb of Dapto using the same numbers that his wife had been submitting for decades.
So the morning after the lotto numbers were announced, she kept crossing off number after number on her list of tickets and once realized they had won $1 million Australian [roughly $668,000 USD] on one ticket. "I thought I should probably tell her about the second identical ticket too," recalled the newly-minted multimillionaire. The odds of winning the Australian lotto twice are unknown, but experts estimate that the odds of buying just one winning ticket are one in 1.845 million. "I can't believe this has happened to us," said the man over his double-stroke of good luck. "My mind is racing with all the things I can do for my family," said the woman. 'It won't take much to make us happy,' the wife said. "I can buy my daughter a house. I can set up the children and grandchildren for the future. Once we've done that, then we can enjoy whatever is left."
This isn't the first time someone has gotten two winning lottery tickets in a short span of time. In December, a man from Massachusetts won $1.9 million on the lottery after his 'intuition' told him to buy six identical lottery tickets. Each of Raymond Roberts' tickets was worth $330,000 as a cash prize and the winning numbers were a combination of his birthday and anniversary dates. He had been playing the lottery for 20 years and had used the numbers before but had no such luck.
Lottery Laughs
I don't know why people bad mouth lotteries.
I pay taxes and the odds of winning the lottery are way better than the odds of getting good government.
What's the difference between British English and Australian English?
British English: bloody hell!
Australian English: ¡llǝɥ ʎpoolq
My friend Bob won a million dollars the other day, so I asked him what he will do with his winnings?
Bob said "Probably pay off my credit card debt."
I said what about the rest of it?
Bob says, "Well I suppose it'll get paid off eventually."

Ricky decides to go back home to Melbourne so he calls Qantas Airlines to book his flight. The operator asks him, "How many people are flying with you?" Ricky replies, "Strewth mate, how would I know. It's your plane."
March 15th Birthdays
1970 – Kim Raver, 1993 – Sosie Bacon, 1975 – Eva Longoria, 1989 – Caitlin Wachs
1959 – Fabio Lonzoni, 1972 – Mike Tomlin, 1956 – Clay Matthews, 1941 – Mike Love
Morning Motivator:
Give light and people will find the way.