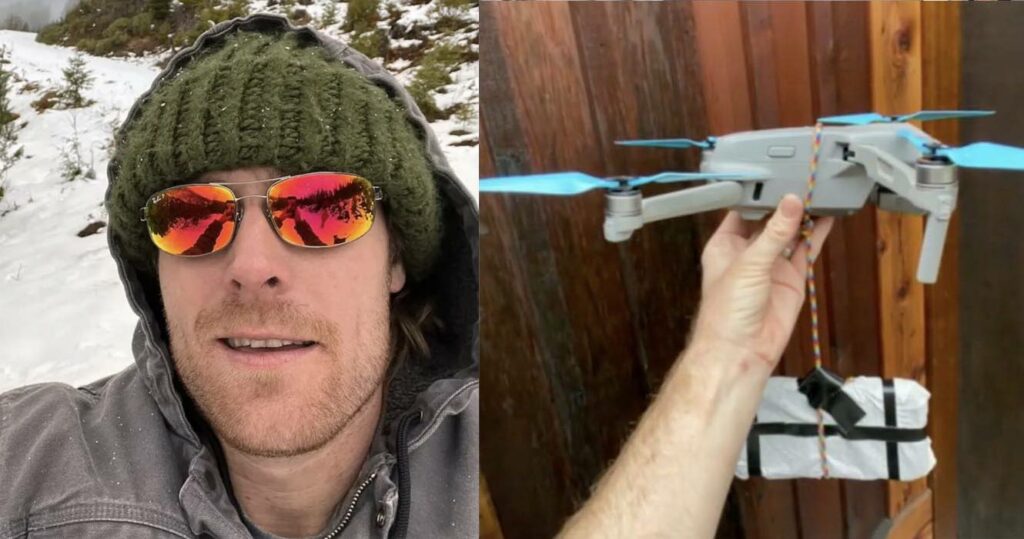 It was a snowy morning on January 29th when Casey Ryan from Eugene, Oregon, and his friend decided to travel up into the mountains of Willamette National Forest for a bit of hiking. Casey explained he was familiar with many of the roads in the area stemming from time spent volunteering on a roadside litter cleanup crew. He also frequently went into the mountains for his favorite hobby, photographing the wilderness with his camera and his drone. The conditions that day were icy, but seeing cars come from the opposite direction of the road he was taking, he assumed that everything was okay. Eventually though, he came upon the stranded driver of a Mercedes van, and when he volunteered to help tow the van out, in the process he reversed into a snowdrift. It was already late afternoon and the temperature was falling as Ryan, his friend, and the other driver tried to dig him out, but the snow was turning to ice on his wheels. They were out in the wilderness and out of phone range for any of them.
The three-way brain trust came up with the idea of sending a message from Ryan's phone attached to his camera drone. That way the phone would be above the tress and mountains and hopefully get a signal. Attaching an iPhone to the underside of his camera drone, Casey Ryan managed to MacGyver an SOS text by flying the drone above the tree line where the phone could grab a signal, leading to his rescue the following morning. Hi sweetheart," he texted to wife on his cellphone. "I'm sending my phone in the sky with my drone. Hope to get this message through." Then he added, "I just keep praying by the moment I have enough gas to get me through one more night." It worked, even though the drone was not designed to carry a bulky phone. When the drone landed and they checked to see if their text to Ryan's wife had been sent, they were left mind-boggled when they saw that it had worked. After a night in their cars, Lane County Sheriff's Office arrived in the late morning to rescue them, Ryan's wife having alerted them the night before. When rescuers reached Casey and friend, they were also able to save another motorist who had spent days stranded in the snow. "I've been doing search and rescue since 2007," said Jason Bowman, a search-and-rescue coordinator with the Lane County Sheriff's Office, who spoke to the NY Post. "And this was by far the most unique way I've ever seen somebody call for help."
Jokes droning on:
Amazon just got approved for drone delivery.
We now have skeet shooting with prizes.
What would the product name be if Apple started making drones?
iSoar
The first porn movie filmed by a drone has been released. The film is expected to be a big surprise to the people who star in it.
Conspiracy theorists are like, "If it looks like a duck and quacks like a duck…"
It's a government surveillance drone.
March 22nd Birthdays
1976 – Reese Witherspoon, 1999 – Paola Andino, 1983 – Constance Wu, 1988 – Tania Raymond
1930 – Steven Sondheim, 1948 – Andrew Lloyd Weber 1947 – James Patterson, 1931 – William Shatner
Morning Motivator:
The content of your character is your choice.
What you think and what you do is who you become.