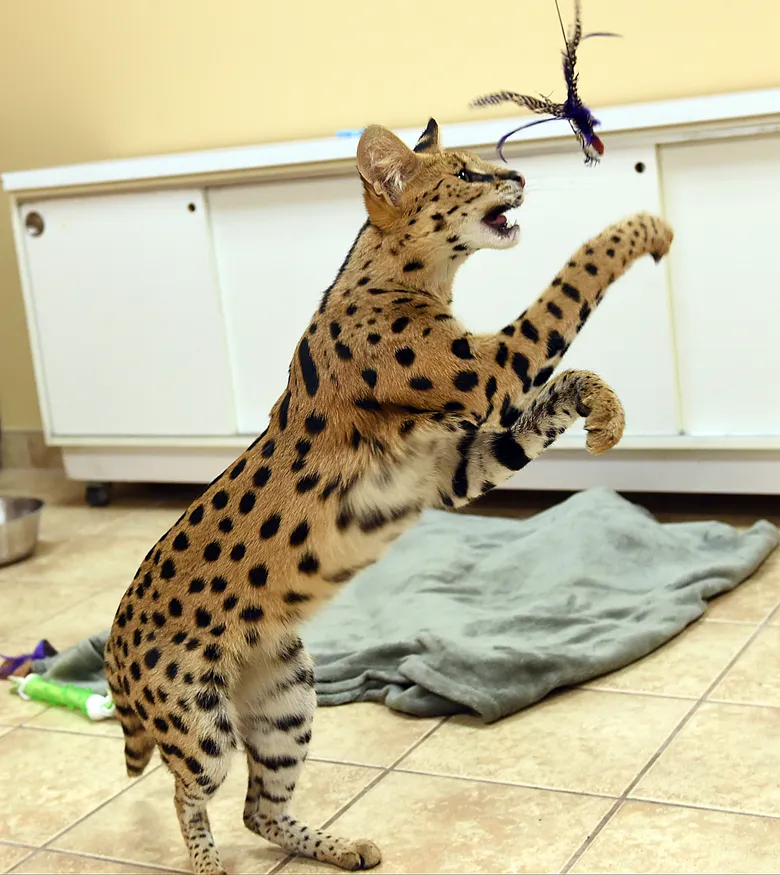 As a policeman you have to be ready for anything. Traffic stops are the greatest source of arrests for drunks, drugs and stolen merchandise. So a well-meaning officer from Oakely, Ohio (near Cincinnati) pulled over a driver who seemed to be having trouble concentrating on the road around him. In the process of the stop the officer opened the car door to let the operator get out. When he did, a big cat jumped from the back seat and scampered over to a nearby tree and climbed it to look down on the action. After the officer had taken care of the prisoner, Hamilton County dog warden deputies were called to sightings of a "leopard" in a tree in Oakley. Cincinnati Animal CARE got called in to get the cat out of the tree. Authorities initially described the 40 pound cat as a leopard. "They weren't sure what they were dealing with," Anderson of CARE said. "Hindsight being 20/20, it probably would have involved a whole lot more people."
The animal pro's got the cat down and took it to their hospital facility. They identified it as an African Serval, a medium-sized feline that resides in the African savannah and named it, "Amiry," Servals are known for having the largest ears of any cat, using them to detect movements in the grass like fleshy radar dishes. Servals are illegal in Ohio. That wasn't the only shocking revelation of the day: Drug tests showed Amiry had cocaine in his system. "Toxicology came back the animal was positive for narcotics," Taylor said. It's unclear how the serval ended up ingesting the purrformance enhancing drug. The stimulant may have helped anesthetize the long-eared cat, which reportedly suffered a broken leg during capture. Amiry has been transferred to the Cincinnati Zoo while an investigation continues. Authorities say the cat's owner has been cooperating with the probe, and no charges are expected. WLWT-TV noted that while it is illegal to keep servals as pets in Ohio, they are allowed in neighboring Kentucky and Indiana.
Animal antics
What animal loves and hates the Arctic?
The Bi-polar Bear.
HR: "What would be your main strength?"
Applicant: "Well, I can communicate with animals…"
HR: "Wow, impressive. Any weaknesses?"
Applicant: "They can't understand me."
A herd of cows broke into a Colorado weed farm.
Police and animal control are on scene and the steaks are high.
I am totally against scientists doing testing on poor, innocent animals:
Let them practice on journalists and politicians.
March 9th Birthdays
1996 – Sierra Ramierez, 1983 – Maitte Perroni, 1996 – Ciera Ramierez, 1987 – Brittany Snow
1934 – Yuri Gagarin, 1943 – Bobby Fischer, 1956 – Mark Danantonio, 1824 – Leland Stanford,
Morning Motivator:
Stop searching the world for treasure, the real treasure is in yourself.