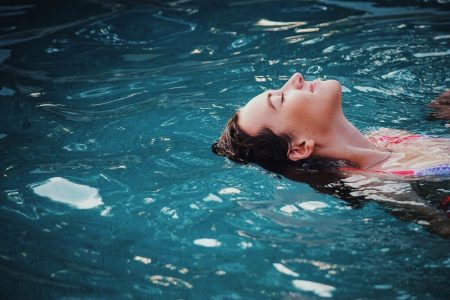 Exploding energy costs have been blamed for the closure of more than 60 public swimming pools across Britain over the past four years. With the bills for some expected to rise, it has left leisure centers scrambling around for ways to keep the facilities running. Here comes one unusual solution — the washing-machine-sized data center. It may sound far-fetched, but one leisure center in Devon is using computer power to heat its swimming pool. The idea works by placing 12 computers inside a white box which is then surrounded by oil to capture the waste heat they produce — in a similar way to another concept that uses computer servers to heat water in some people's homes. The hot biodegradable mineral oil is in turn pumped into a heat exchanger to warm the water in the pool to about 86°F, 60 per cent of the time. The solution has slashed the pool's natural gas consumption by 62% since the normal gas heater only needs to run occasionally. As a result, the leisure center saves nearly $25,000 a year. That goes a long way towards keeping the lights on and the pool warm at the center.
The tiny data center has been provided to the council-run facility free of charge by start-up firm "Deep Green," which also covers the costs of the electricity it requires. Deep Green makes its money by charging customers to use the computing power provided by the server for artificial intelligence and machine learning. The company's founder Mark Bjornsgaard said seven more swimming pools in England had signed up to the scheme, but added that some 1,500 could also benefit. 'Data centers have got a huge problem with heat,' he told the BBC. "A lot of the money it costs to run a data center is taken up in getting rid of the heat. And so what we've done is taken a very small bit of a data center to where the heat is useful and required." Sean Day, who runs Exmouth Leisure Centre, said its tie-up with Deep Green had helped to slash costs during what has been an 'astronomical' rise in gas prices over the past 12 months. He revealed that he had been expecting the facility's energy bills to rise by £100,000 this year. Instead, Deep Green estimates that its 'digital boiler' can help save the leisure center more and reduce its carbon emissions by 25.8 tons. Energy costs for leisure centers have increased by 150 per cent since 2019 and an estimated 79 per cent of facilities say they face closure.
Around the EU: One Dutch data center operator has completely replaced its natural gas heating. The company's facilities now stay warm with the heat its bread-and-butter computers spew out. In Denmark, on the other hand, a data center near the city of Odense, hosts video files for social media sites such as Facebook, Instagram, and more. The heat the servers put out heats water for Odense, providing residential heat and warm tap water to the city. Just by streaming videos, internet users worldwide are helping keep Odense's taps and radiators running hot. At the same time, they're saving valuable resources for better uses.
Heating you up
My landlord wants to talk to me about why my heating bill is so high.
I told him my door is always open.
There's a technical term for a sunny, warm day which follows two rainy days.
It's called Monday.
"According to a new U.N. report, the global warming outlook is much worse than originally predicted. Which is pretty bad when they originally predicted it would destroy the planet."
In winter, why do we try to keep the house as warm as it was in summer when we complained about the heat? "Barbra Streisand told Diane Sawyer that we're in a global warming crisis, and we can expect more and more intense storms, droughts and dust bowls. But before they act, weather experts say they're still waiting to hear from Kim Kardashian."
March 28th Birthdays
1986 – Lady Gaga, 1982 – Julia Stiles, 1976 – Kate Gosselin, 1955 – Reba McEntire
1944 – Ken Howard, 1971 – Vince Vaughn, 1899 – August A. Busch, 1966 – Jason Garrett
Morning Motivator:
When the going gets tough, the tough get going.