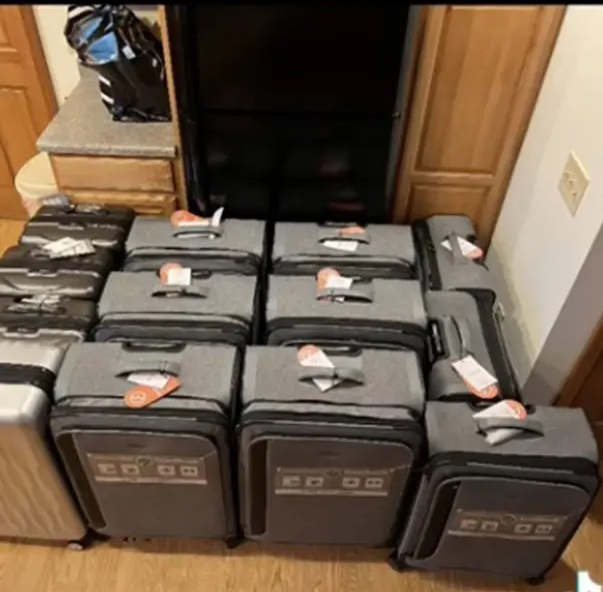 Peyton Rochefort arrived at her Florida destination and went to the luggage carousel for her Delta flight. Her suitcase came around and it was very recognizable as it had a large colorful flower design on it, but it had a chunk of the suitcase torn out and it was missing one wheel. Peyton went to the luggage office at the airport and showed them what had happened. They were sympathetic and said they would take care of her. That would be a nice story, but the how they took care of her made the whole incident famous. A couple of days later she was asked to come to the baggage office to get her replacement. She drove her small jeep pickup to the airport.
The surprise was that they had 10 boxes emblazoned with the logo for the Ricardo Beverly Hills suitcase brand for her to pick up. In fact, the boxes of luggage were more than could fit in the cargo bed of the little truck, she had to put some of the boxes in the seat with her. When she got home, she started opening the cartons and ended up with 13 suitcases as some boxes had a smaller one inside a large bag. "I was crying laughing," she said. "I thought I was done, only to realize three of the little bags had small ones inside them. "They were all like $200 to $400. I felt terrible," Thompson added. "I did view other bags, so I don't know if that somehow is why I got all of them, but I picked the one I wanted and I checked out and it was free and they emailed me a confirmation," she was quoted as saying by Fox News. "We got it all straight," Peyton said. "Her [the representative's] name was Pam and she was great. She said 'Yes, it was a mistake. We're so sorry for your inconveniences.'" Peyton confessed she "ended up being honest" with the airline as she felt too guilty keeping her luggage haul. However, Delta did let her keep one of the extra bags because she did the right thing.
Funny baggage
Don't you just hate that situation when you're picking up your bags at the airport, and everyone's luggage is better than yours.
It is a worst case scenario.
"Why is the mistletoe hanging over the baggage portion of the airline ticket counter?" asked the airline passenger as she checked in amid the holiday rush. The clerk replied, "So you can kiss your luggage goodbye."
There was an incident at the airport when a large collection of suitcases fell over in the luggage area. Experts suspect it was pile it error.
My friend was arrested for stealing luggage from airport, his trial didn't last more than an hour.
It was a brief case.
March 14th Birthdays
1833 – Lucy Tyler Hobbs, 1968 – Megan Follows, 1942 – Rita Tushingham, 1998 – Simon Biles
1948 – Billy Crystal, 1879 – Einstein, 1989 – Stephen Curry , 1985 – Antoni Porowski
Morning Motivator:
Great minds discuss ideas. Average minds discuss events.
Small minds discuss people.