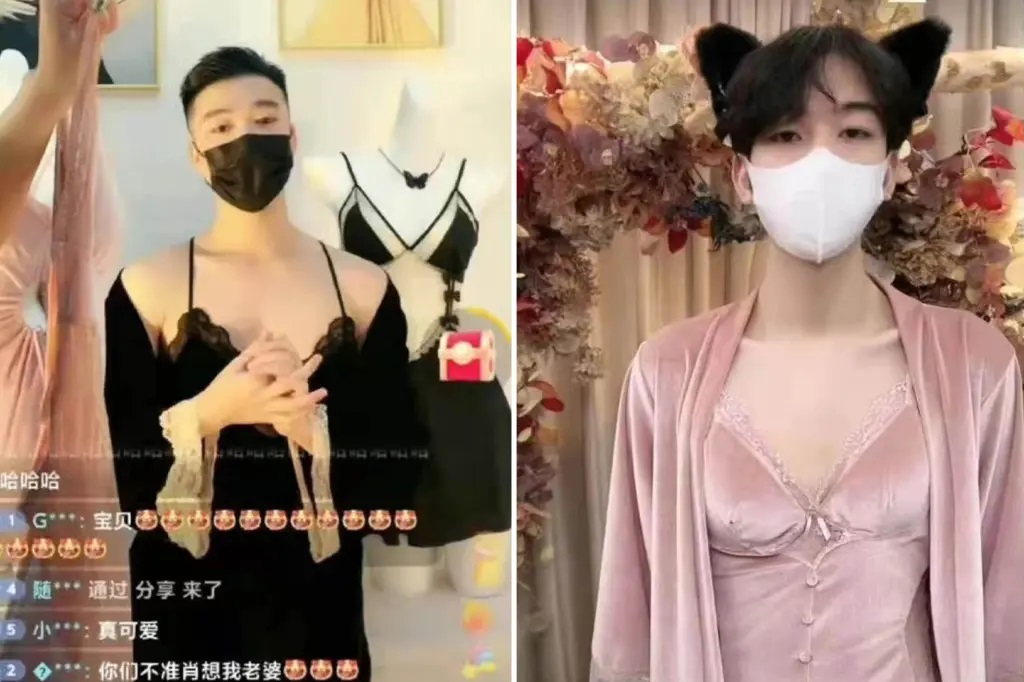 In China "Livestream shopping" is the latest craze. Livestream shopping is comparable to our Home Shopping Channel with some added internet hooks. One difference is that the Chinese sell everything on TV, including clothes. During the shopping livestream, the host promotes various products. The audience can comment on the inline stream chat and — of course — easily order the products from the provided links. This form of shopping accounts for about a tenth of all internet shopping in China. Who buys clothes? Women, so the logical expectation is that women would be on TV talking about and wearing these creations to entice the buyers. China has very strict laws in place about spreading "obscene materials" on TV and the internet. Generally, that means pornography, but the Chinese government has been more controlling than usual lately and started cracking down on lingerie shopping streams. They've now gone so far as to ban women from modeling any lingerie on livestreams. Their excuse in this case is that some people get titrated by having women on TV wearing bras and underwear as well as lingerie. This put a big damper on the lingerie Livestream trade …until they came up with a solution. The channels would still model and sell women's underwear and lingerie, but it would be modeled on TV by men. Male models now pose on camera on some businesses' shopping streams, strutting their stuff in frilly babydolls and other lingerie.
The bra-clad male models definitely seem to resonate with the audiences. Xu said many of his competitors hopped on the bandwagon after his business debuted male models. The comments from viewers show that at least some of them definitely enjoy the male models. "The guy wears it better than the girl," one comment with hundreds of likes wrote. Not everybody is happy with the change — some women online commenters lament that the change is depriving women of jobs. They have a point. But if that's the law, what are the livestream operators supposed to do about it? It's not exactly uncommon for Chinese businesses to use male models for products aimed at women. For example, Austin Li Jiaqi, one of China's most popular lipstick models, has received the nickname "Lipstick King." In another case, 41-year-old businessman Wu Nan has become known as "Uncle Wu Who Wears High Heels." He demonstrates the sturdiness of his businesses' heels by jumping, dancing, running, and doing other stunts while wearing them. So, based on precedent at least, the men appearing on livestreams in bras and panties only continue China's tradition of marketing towards women with male models. Whether it will be allowed to go on, though, we can only wait and see.
Not to be outdone, Lady Biden this week presented this year's annual "International Women of Courage Award" to a biological male from Argentina dressed in women's clothes. Joe seemed confused.
Chinese chuckles:
There is freedom of speech in China,
but there is no freedom after speech.
Why is China arresting people for spreading misinformation?
Because spreading misinformation is government's job.
China is already honoring Biden,
They have even named a central landmark in Beijing for Biden.
"FOR BIDEN CITY!"
China has now banned any military personnel to use apple watches due to security reasons.
One soldier says with tears in his eyes "but, but my daughter made it for me."
March 10th Birthdays
1986 – Olivia Wild, 1983 – Carrie Underwood, 1959 – Sharon Stone, 1949 – Babara Ann Cochrane
1940 – Chuck Norris, 1971 – Jon Hamm, 1948 – Austin Carr, 2000 – Logan Shroyer
Morning Motivator:
The best way to predict the future is to create it.