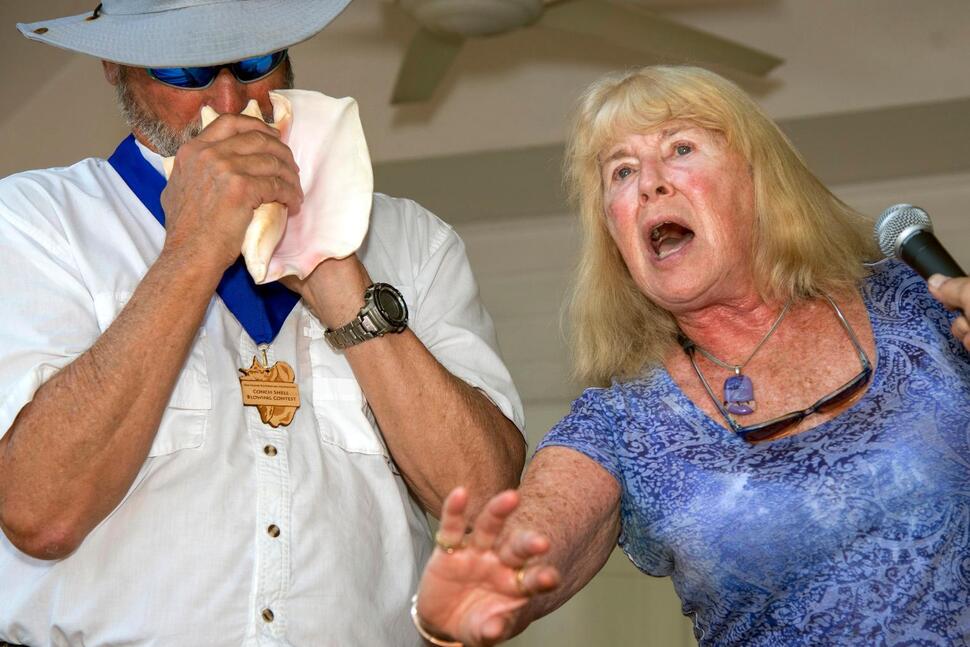 Key West is the Southernmost point of America. It is a little chain of islands the finish off the Florida peninsula and had long been a hideaway for millionaires, criminals, boot- leggers and people who want permanent vacations. Until recently it had been isolated from the rest of the country by distance, bad roads and lack of modern infrastructure. A great place for people wanting to get away to just "veg," hang out on the beach or maybe fish and snorkel. The island chain is nicknamed the Conch Republic. The Key West collection of eclectics has led to many stories and special events. This week was their special event was the Conch Shell Blowing Contest. A conch is a big slug that builds a fancy spiral council shell that draws collectors and is the object of this "musical" contest called the Key West Conch shell blowing contest. The contest was conceived by the Old Island Restoration Foundation in 1972 and took place in the garden of Key West's Oldest House Museum. Stories tell of the American Indians and Polynesians using very large conch shells as musical instruments and signaling devices. So the contest asks comers of all ages to compete making noise with their own style and wind in a conch shell.
The first place winner, Brian Cardis of Macon, Georgia, played the Jimmy Buffett song "Fins" on a a pink-lined conch shell with holes so it can be played like a flute, while Carol Whiteley of Ontario, Canada, blew a long, loud blast with her shell to best other competitors. Doctor Cardis said he began blowing the marine mollusk shell about 10 years ago during a family visit to Key West, adapting techniques he learned playing the trumpet as a child. "You sort of have to just buzz your lips when you're blowing into it," Cardis said. "You have to make a 'pffft' noise with your lips in order to generate the sound." Whiteley said she plays the shell at her riverside home to celebrate sunsets. Judges evaluated entrants ranging from children to seniors on the quality, novelty, duration and loudness of sounds they produced Other winners included Michael and Georgann Wachter, a couple from Avon Lake, Ohio, who performed a conch-shell-and-vocal duet parodying Elvis Presley's "Hound Dog" that drew cheers and laughter from spectators.
Shelling out Florida Funnies
I have a hobby…I have the world's largest collection of sea shells. I keep it scattered on beaches all over the world. Maybe you've seen some of it.
At this morning's press conference, Ron DeSantis announced that the state of Florida will be outlawing the consumption and distribution of coffee.
He went on to condemn the beverage as a tool of the WOKE agenda.
What's Irish, sits outside and rarely survives a Florida hurricane.
Paddy O' Furniture.
Sally can't sell seashells down by the seashore anymore…
She was busted for conch-traband.
March 6th Birthdays
1944 – Mary Wilson, 1967- Connie Britton, 1997 – Alicia Boe, 1937 – Valentina Tereshkova
1972 – Shaqueille O'Neal, 1959 – Tom Arnold, 1956 – Glenn Greenwald, 1963 – DL Hughley
Morning Motivator:
Finish each day and be done with it.