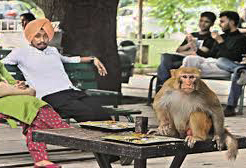 Indian officials preparing for the G20 summit next week have hired teams of "monkey-men" and erected primate cutouts to deter marauding monkeys from munching on the floral displays laid out for global leaders. New Delhi's city council has hired "monkey wallahs", or "monkey-men", who mimic the hoots and screams of the aggressive langur monkey (in the video below).  Langurs are the natural enemy of the smaller rhesus macaque primates who wreak havoc in the capital's leafy government areas. "We can't remove the monkeys from their natural habitat, so we have deployed a team of 30-40 men who are trained to scare away monkeys," Satish Upadhyay of the New Delhi Municipal Council, told AFP on Wednesday. "We will deploy one man each at the hotels where the delegates would be staying, as well as in places where monkey sightings have been reported."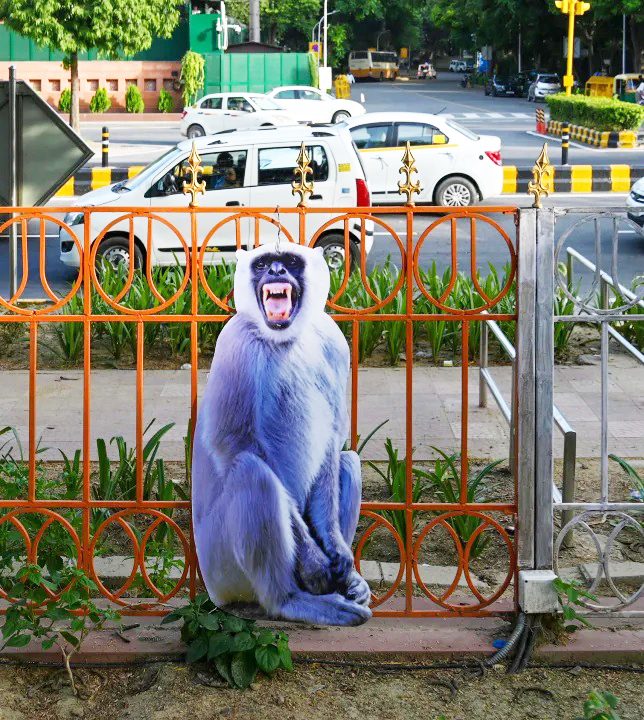 Though revered in the majority Hindu nation, monkeys are a major menace, often trashing gardens, office and residential rooftops and even viciously attacking people for food. The Delhi metropolitan area, home to around 30 million people, has been on an intense beautification drive since India assumed the G20 presidency last year. Life-size cutouts of the langur have also been set up in a bid to scare away the monkeys, and the city will also move them around to convince the macaques that they are real. For decades, Delhi's streets were patrolled by men with trained langurs, but that practice ended when a court ruled that keeping the langurs in captivity was cruel. In other parts of the city, watchmen use slingshots and sticks to ward off the animals. The monkeys also become wise quickly — when a plastic langur was set up, playing recorded sounds of the animals, it lasted only three days before monkeys tore it to pieces.
But worries that troops of monkeys may charge in front of the conveys of cars ferrying presidents and prime ministers from the Group of 20 nations meant the council turned to the forest department for a plan. The government does employ 40 "very talented" young men to pretend to be langurs, mimicking their barks and cries to scare the macaques away. It doesn't work for long though, as the monkeys return as soon as the impressionists leave. Efforts to move the animals to forests outside the capital are generally considered futile because the monkeys simply make their way back, unable to find food as easily as they can in the city.
"How many langur cutouts does it take to change a monkey's mind?" The intractable monkey crisis often receives attention in the Indian media, and the parliamentary secretariat appears to have been rankled by the coverage its anti-monkey guidelines have received… For now, at least, it looks like the monkeys are winning.
Monkeying around
What do you call the people who only monkey around when you go to the fitness center to work out?
Gym pansies.
Recently, monkeys escaped from an animal testing lab and broke into the adjacent chemistry lab. Some ingested potassium metal and exploded.
There were Rhesus pieces everywhere.
What do you call 2 monkeys that share an Amazon account?
Prime mates.
I told my daughter, "Did you know that humans eat more bananas than monkeys?" She rolled her eyes at me, but I persevered. "It's true!"
"When was the last time you ate a monkey?"
September 5th Birthdays
1990 – Kat Graham, 1996 – Caroline Sunshine, 1950 – Cathy Lee Guisewite, 1940 – Raquel Welch
1952 – Michael Keaton, 1992 – Shandar Keynes, 1970 – Dweezil Zappa, 1929 – Bob Newhart
Morning Motivator:
Don't be afraid that something will happen,
Be afraid that nothing will happen.